6 Faunal Paradises in Costa Rica: the Living Laboratory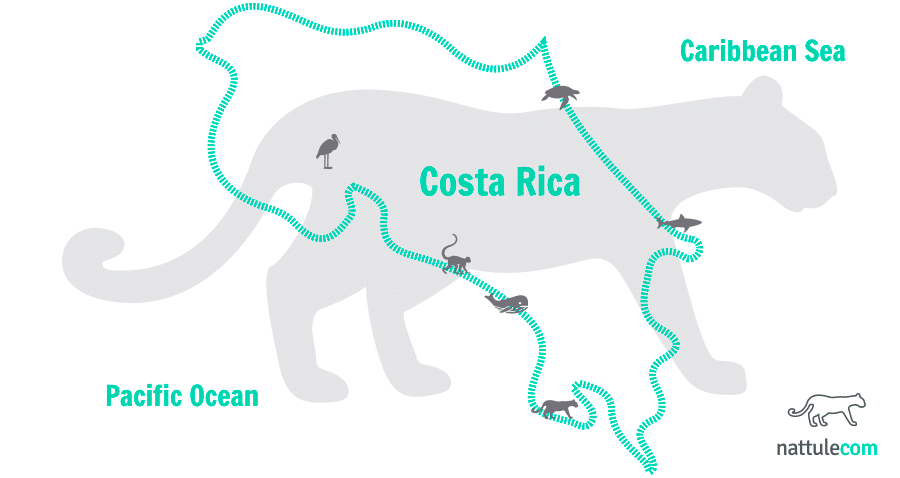 Planet Earth's drawer of miscellaneous items. The leftover pieces of the puzzle. This is Costa Rica, a country that harbors about 4% of the global biodiversity. This means that if you visit here, you will find the most variety of animals and plants than anywhere else in the world.
With a fourth of its territory listed as a protected area, Costa Rica has been the international pioneer on ecotourism. The wide range of ecosystems make visitors feel like they have visited more than one country.
Discovering the thousands of different species is almost impossible, but Nattule tells you where to find those that suit you best.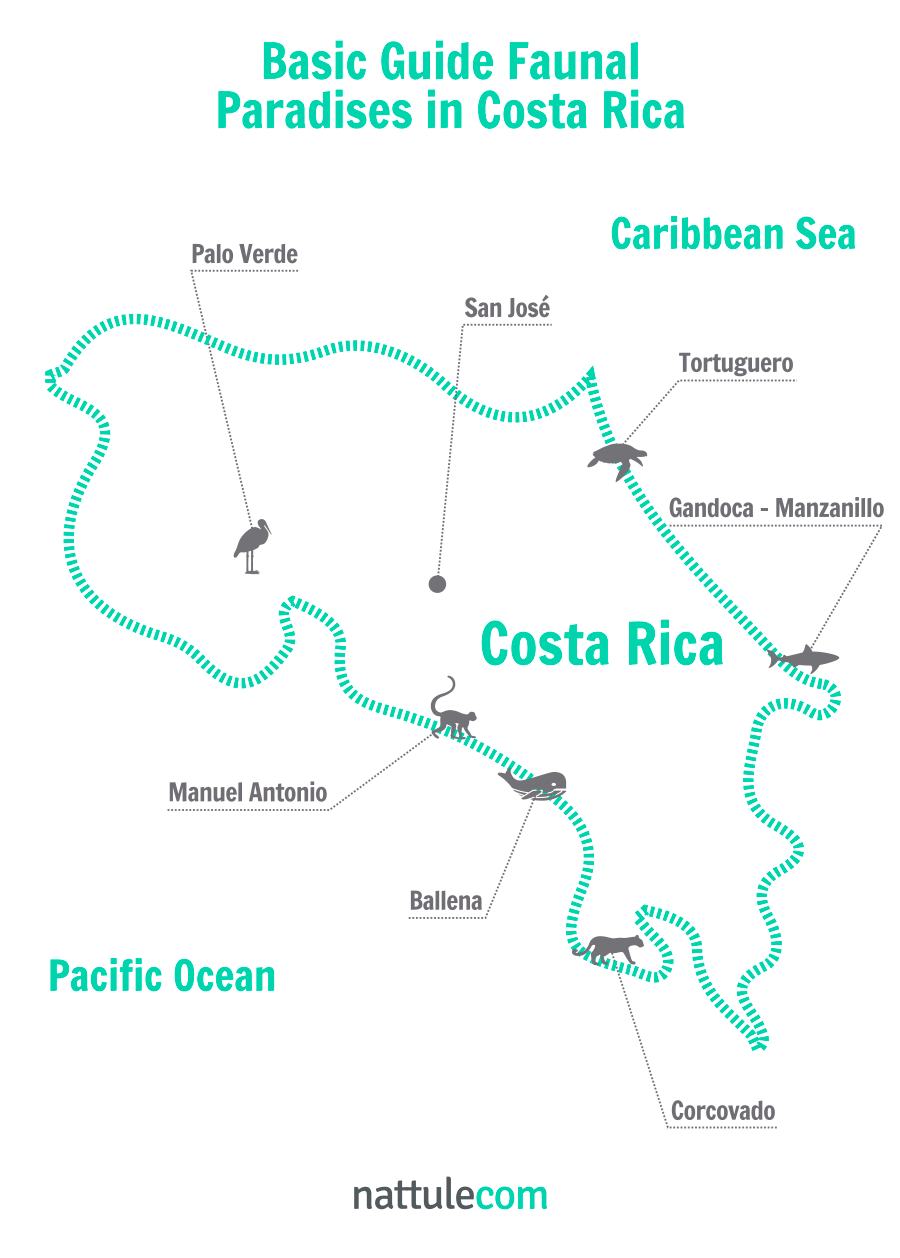 We suggest 6 natural areas of Costa Rica to visit according to your faunistical liking.
1. Reptiles in Tortuguero
Up to 5 different species of sea turtles can be found on the Costa Rican beaches. At the National Park of Santa Rosa, in the north of Costa Rica, thousands of olive ridley turtles arrive there to spawn between July and November.
However, travellers who really love turtles choose Tortuguero as a destination.
Located on the Caribbean coast, about 80 kilometers from the city of Limón, Tortuguero National Park is one of the most famous in all of Costa Rica. Tortuguero is one of the most humid areas of the country and among its rivers, channels and lagoons, we can find a multitude of animal species. Highlighting among reptiles different species of crocodiles, lizards and terrestrial and sea turtles.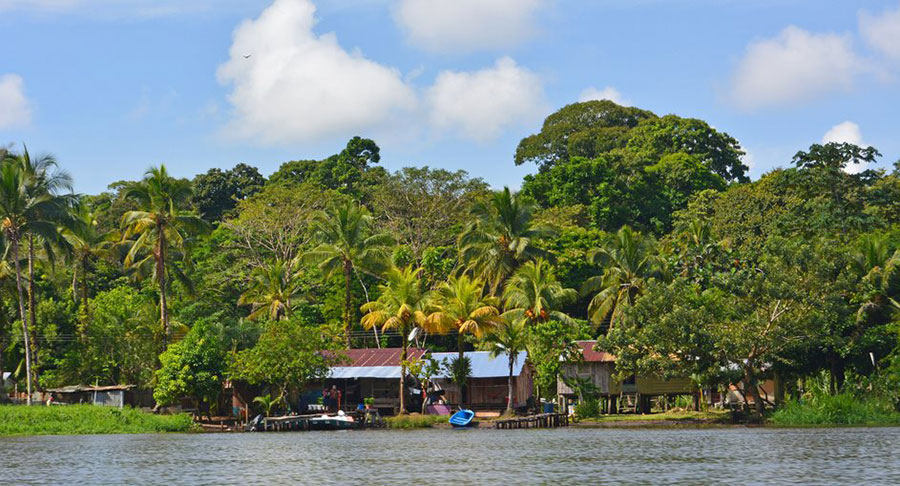 Lush nature in Tortuguero
You can reach Tortuguero either by boat or by plane. If you choose to go by plane, there are flights departing from San José every morning, and it takes about 30 minutes to get to the destination.
Arriving by boat is more appealing since it allows you to enjoy the channels and the lagoons that cross the Park. To catch a motorboat, you should arrive first by bus to Moín. You can also take a rowboat from La Geist or La Pavona. You can arrive there from Cariari.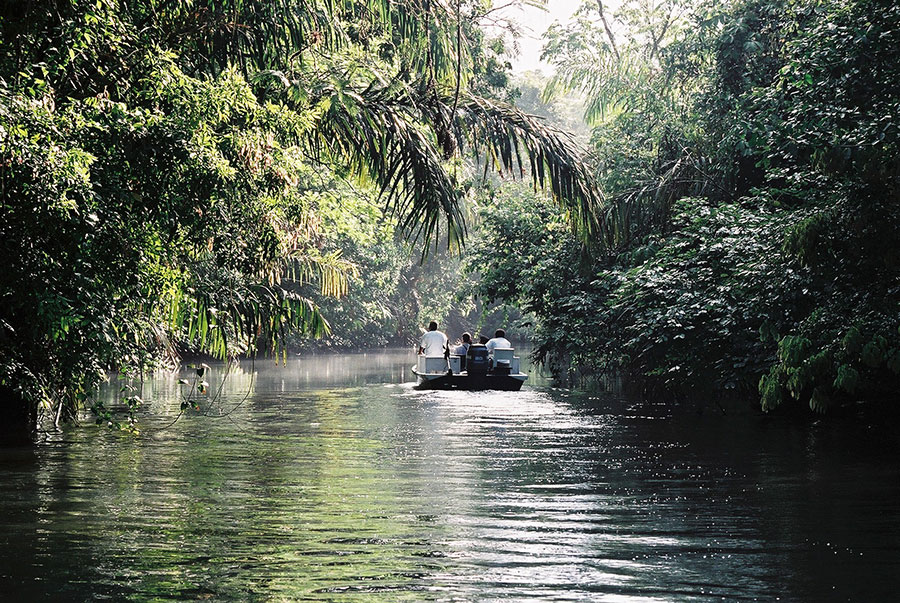 A motorboat is the best way to reach the Park
Night tours to watch the turtles spawning are one of the major highlights of this Park. It's important to get information in advance about the availability, since admission is restricted to a limited number of visitors. Here you can watch the turtle digging its nest, spawn its eggs there and cover the nest before going back into the sea. This activity is held in complete darkness and no videos or photos are allowed, in order not to disturb the animals.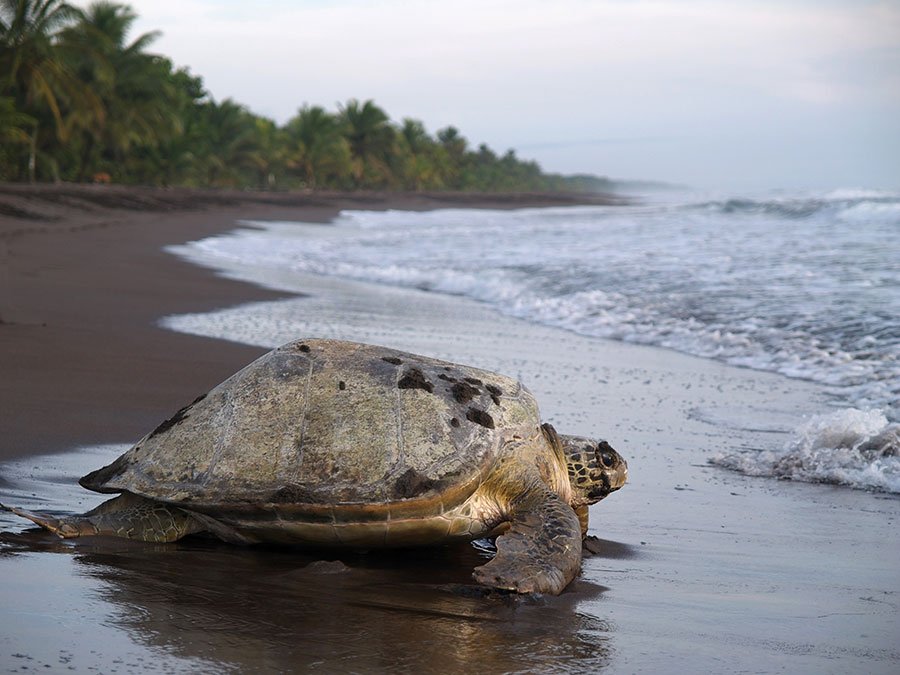 A green turtle on the Tortuguero coast
If you're deciding when to visit Tortuguero, you can use the turtle's spawning season as a good reference on when to do so. The most popular one is the green turtle, that spawns between July and October. The leatherback turtle, between March and June, and the hawksbill, between May and October.
2. Big Mammals in Corcovado
Jaguars are on the must-see list of all visitors arriving in Costa Rica who are drawn here by its fauna.
Poaching and the destruction of its natural habitat have endangered the existence of this feline. Jaguars are the biggest feline in all of America, and there are currently only 500 specimen in Costa Rica. This animal is shy and a camouflage expert, so seeing one of them is not easy, but also is not impossible.
Corcovado National Park is probably the best destination to achieve this mission. Located in the Osa Peninsula, on the southwest corner of Costa Rica, National Geographic has listed this area as the most intense one, from a biological point of view.
The jungle and sea meet in Corcovado
In addition to jaguars, Corcovado is the dwelling place of other big mammals such the Baird tapir, sloths and the giant anteater.
You can enter Corcovado from Puerto Jiménez if you fly from San José on a direct flight, or by Bahía Drake if you take a boat from Sierpe. The Park has 4 forest ranger stations strategically located and connected by paths that you can go through. It is important to be aware in advance of the tides, because if it is high tide season, some of these paths are flooded.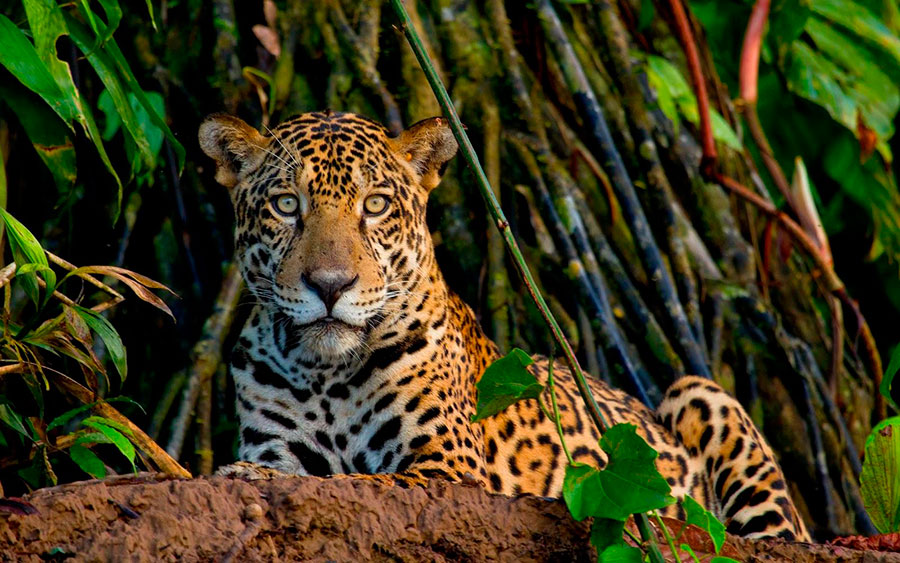 Costa Rica's king: The jaguar
In the surroundings of the Corcovado Lagoon, right in the center of the National Park, it is relatively easy to watch tapirs approaching the water to drink and cool down. In order to find jaguars, the best choice is to take a boat tour on some of the rivers that cross the Park. You may also see them resting on the shore.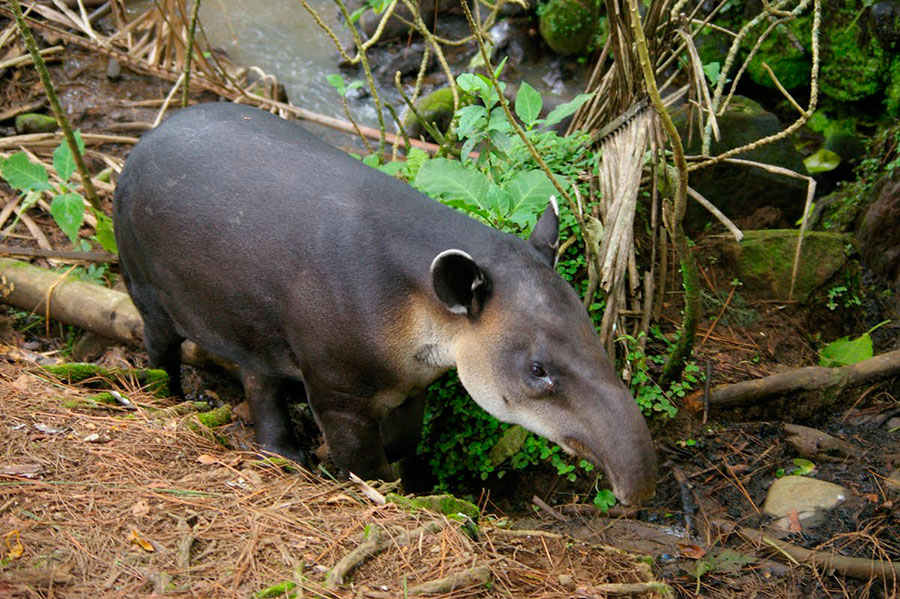 A shy tapir in the Corcovado jungle
The best season to visit Corcovado is between January and April, when it rains less than other months.
3. Cetacean in Ballena and Bahía Drake
If you were touched by Free Willy, you will for sure be touched by Costa Rica. Thanks to the migration of whales passing by their shores, whale watching season in this country is among the longest in the whole world.
Calm and light in Bahía Drake shore on the Osa Peninsula
The Osa Peninsula, in the southern part of the Pacific Coast, is the migration destination of humpback whales, which happens twice a year. They arrive from the north between July and November, and from the south between December and March.
Also, from the beaches of Bahía Drake sometimes you may see pilot whales, Bryde whales, false killer whale and up to 3 different local species of dolphins.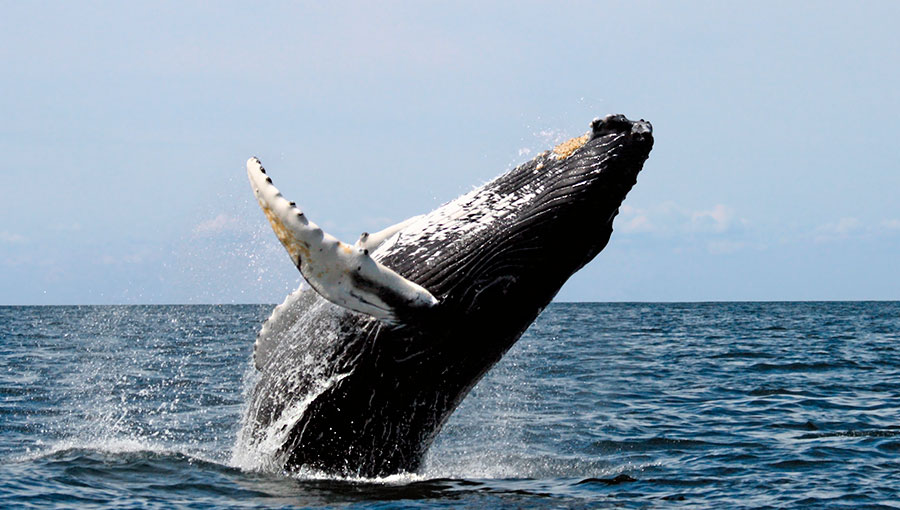 Amazing humpback whales
Another reference site for cetacean watching is the Ballena National Marine Park that goes from the mouth of the River Uvita to Punta de Peñuelas, covering more than 5,000 marine hectares.
From there you can take a boat to watch the whales and visit some of the most emblematic sites of the Park, like the isthmus of Punta Uvita, a rock and sand formation that has the shape of a whale tail.
Infinite beaches in Ballena National Marine Park
The access to the Ballena National Marine Park is easy. By car or by bus from San José, Quepos or San Isidro.
4. Birds in Palo Verde
Palo Verde is a sanctuary for bird lovers.
This National Park is located between Tempisque and Bebedero Rivers, northwest of Costa Rica, where the Nicoya Peninsula meets the rest of the country.
The confluence of fresh water with sea water provokes a phenomenon known as Las Bajuras. On these wetlands, a multitude of migratory birds gather during dry season. Birds like storkes, jabirus, ibis and spoonbills.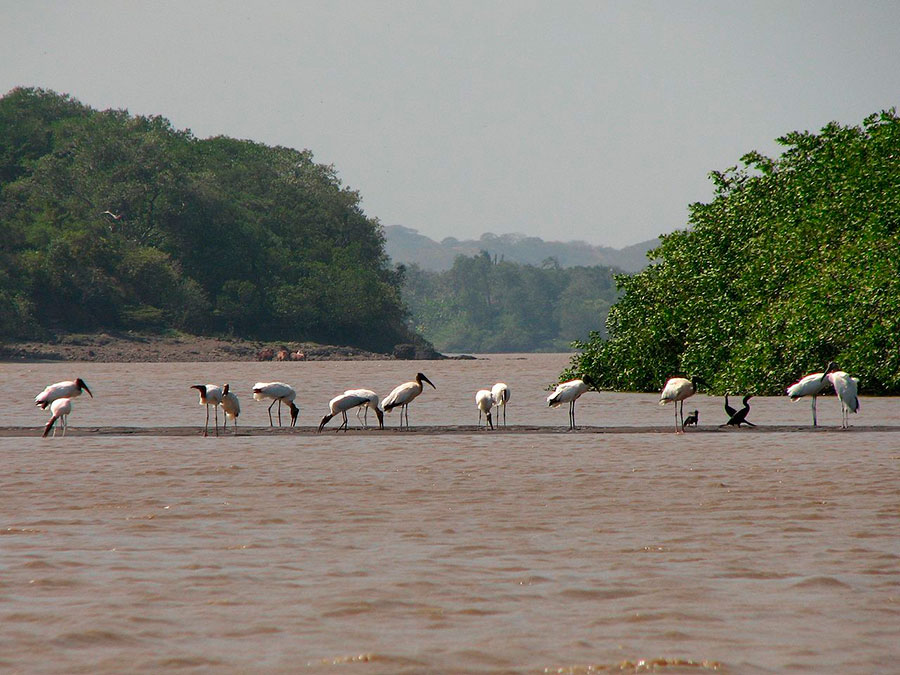 A group of jabirus in Tempisque River
The whole area has plenty of lookouts and paths that you can go through by foot or by bike (you can rent them right there) to reach the most attractive areas of the Park.
One of these key locations is the Palo Verde Lagoon, where most of the birds gather. During sunset or at dawn, you may watch different types of herons and egrets, ducks and jacanas.
The Pájaros Island, located in the Tempisque River, has a curious mix of migratory and local birds. There you can find toucans and macaws.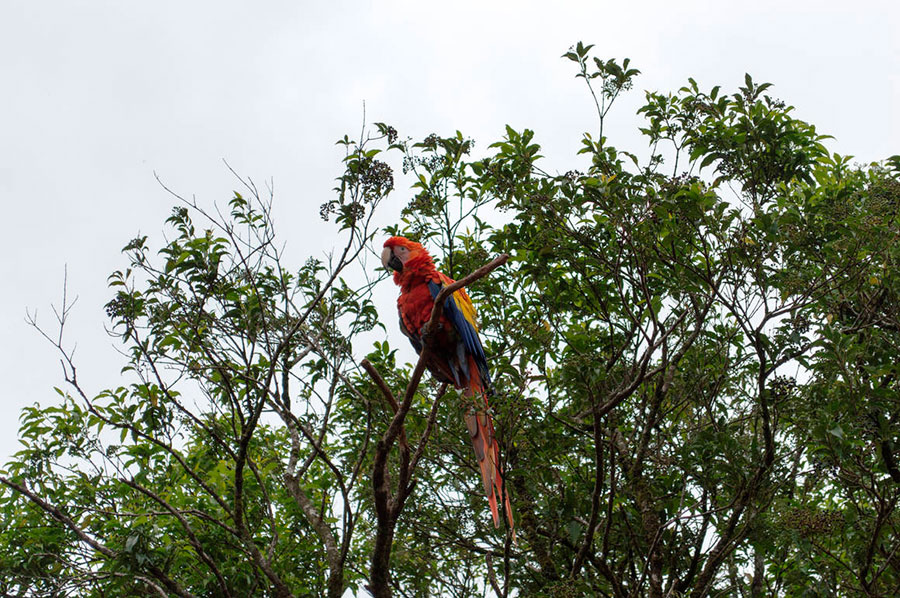 A colour macaw watching from a tree
There are few different options to arrive at Palo Verde. From San José, by car, you take the Interamericana Road to Bagaces, and from there you go south about 20 kilometers until the Park entrance.
If you do not want to drive, then you can catch a flight from San José to Liberia, and from there take a cab or a bus to the Park. Another option is to take a boat in the port of Humo, on the Nicoya Peninsula, and enter the Park from the Tempisque River.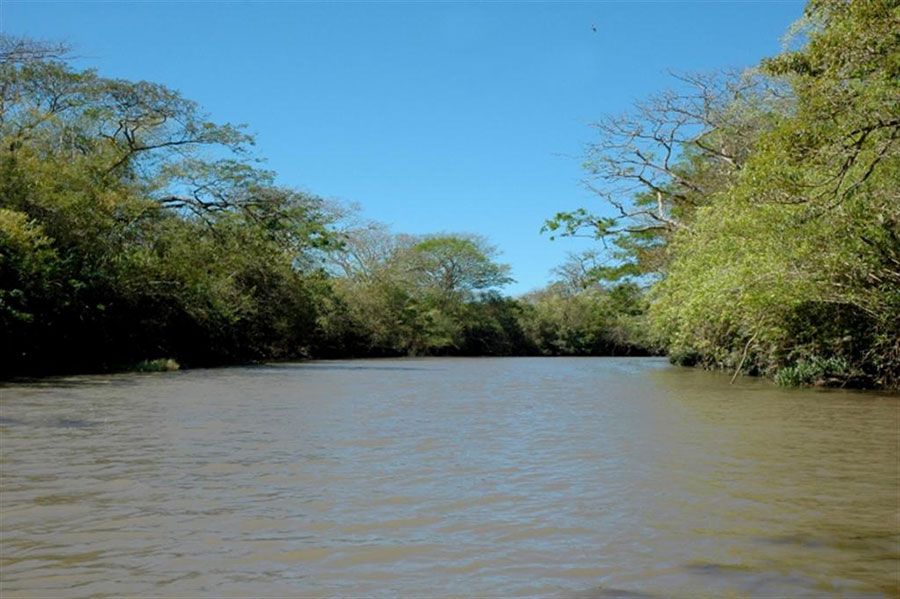 The Tempisque River in Palo Verde
Although you can visit Palo verde all year round, you must bear in mind that during the rainy season, you will need to use a 4×4, since some of the paths get very difficult to drive through. Also notice that during dry season watching animals is easier, since there is less vegetation blocking your view.
5. Primates in Manuel Antonio
Out of the 4 existing types of monkeys of Costa Rica, 3 of them can be found in Manuel Antonio.
This National Park is one of the most visited ones because of its easy access, the good condition of its paths and the wide variety of wildlife that it harbors. Squirrel monkeys, howler monkeys and capuchin monkeys share this area with raccoons, pelicans and sloths.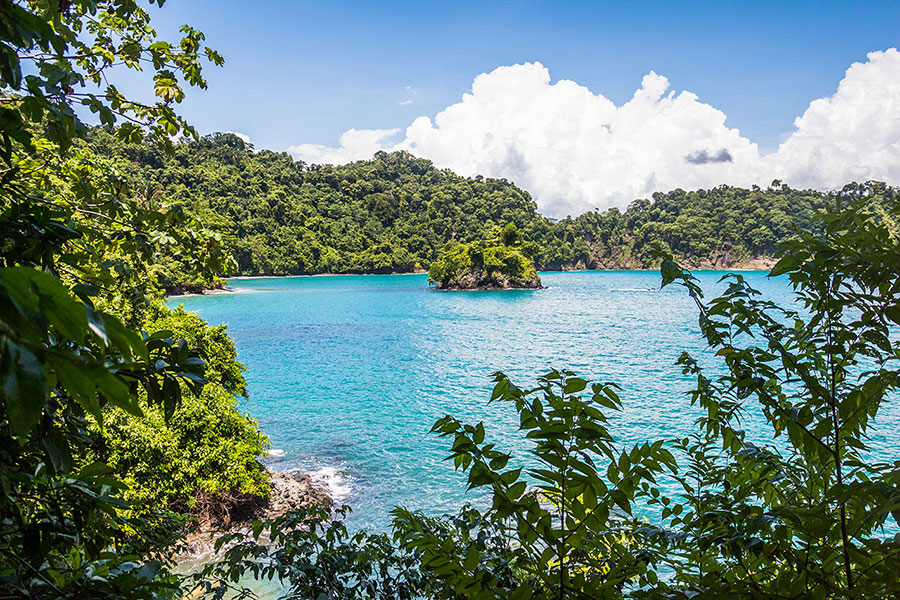 The wild beauty of Manuel Antonio National Park
Guides will indicate you the best spots to find the monkey troops, since they never go alone. Its groups use to have between 20 and 60 members depending on the specie. Take good care of your food, because primates will love to steal your fruit and even your sandwiches.
Going through the paths of El Perezoso and Punta Catedral, or enjoying any of the sublime beaches are just some of the many options available in the Park. In Manuel Antonio beach, you may see the capuchin monkeys and the raccoons taking a look in the visitors backpacks.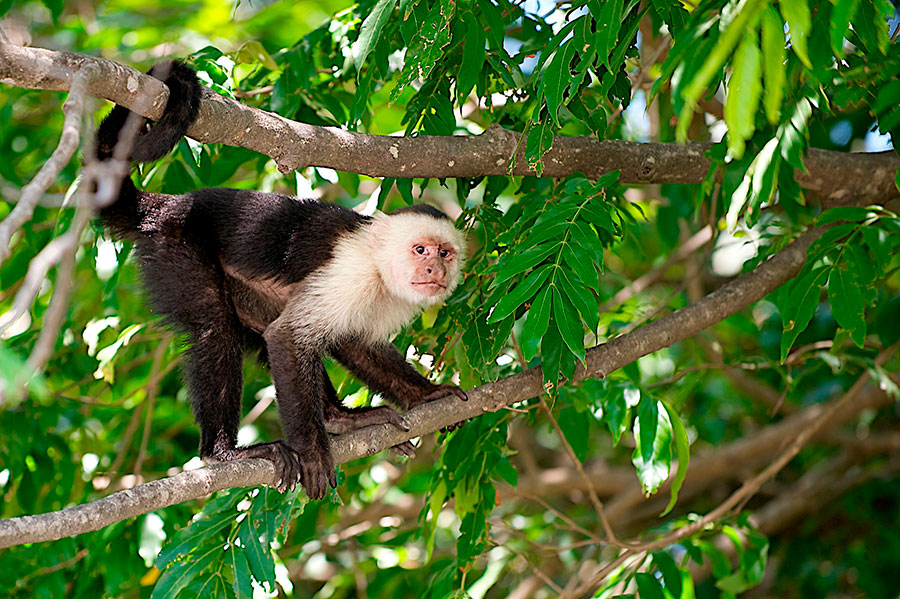 Capuchin monkey, one of the three species found in the Park
The Park entrance is just 7 kilometers away from the privileged city of Quepos, in the Puntarenas province, on the pacific coast. If you are staying in San José, you can drive or take a bus through the Pacífica and Costanera Roads for about 170 kilometers. A 3 hour journey.
It's good to get there early enough to avoid the tourist crowds.
6. Submarine Life in Isla del Caño and Gandoca-Manzanillo
The grounds of Costa Rica are a swarm of life and nature, and underwater is not anything less than this. The oceanic depths of this country have 10 protected areas and a boundless marine fauna. There are amazing spots to dive in all over that region.
The pacific coast of Costa Rica is listed among the 5 best places to go diving in all of the Earth. Fifteen kilometers west of Osa Peninsula, we find the Caño Island. Life on that Biological Reserve is scanty above, but amazing underwater.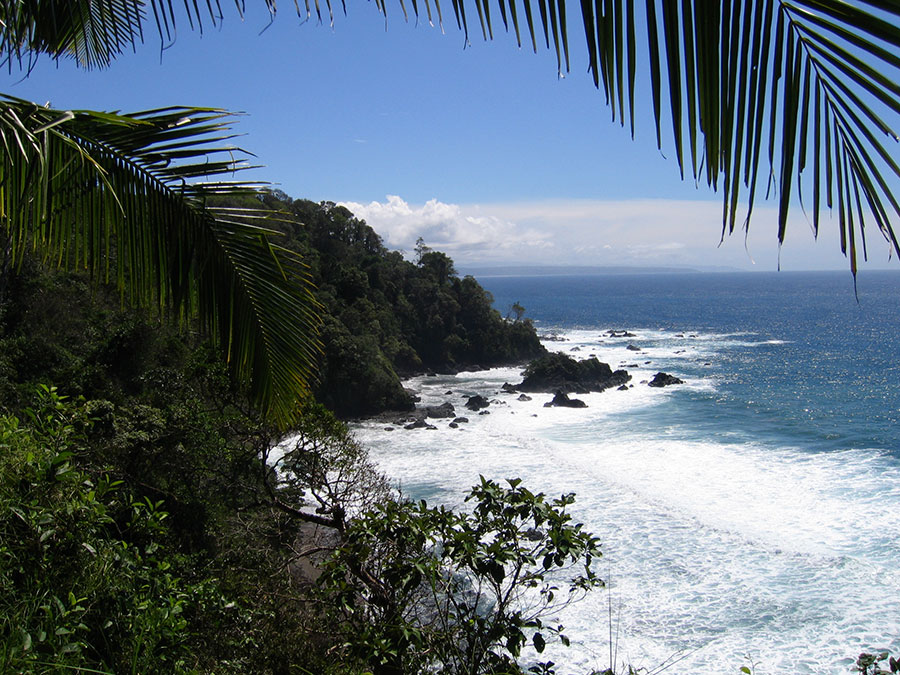 Cliffs of Caño Island
The island is surrounded by one of the best preserved coral reefs in all of Costa Rica. There gather numerous tropical species of fishes, mollusks, crustacean and sharks. The reefs foreman is the whitetip reef shark, easy to distinguish because the white mark of its dorsal fin.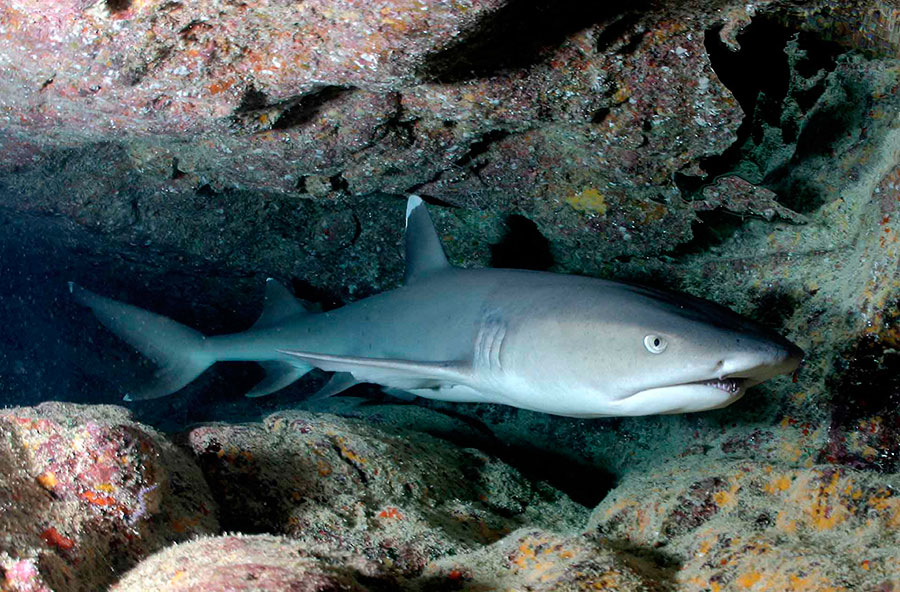 This territory belongs to the whitetip reef shark
To get there, you must book a trip on a boat from Sierpe, Puerto Jimenez or Bahía Drake. The trip takes about 45 minutes and is as enjoyable as its destination. Along the trip you may be able to see whales and groups of dolphins on the bay.
On the opposite coast, by the caribbean shore we find the Gandoca-Manzanillo Wildlife Refuge, another good spot for divers. In its 5 square kilometer reef, you will see 2 coral species that are not found anywhere else in Costa Rica. In that place, there are 600 different species of mollusk dwelling together.
In the surrounding area you will see different types of fishes, dolphins, marine turtles and even manatees, the symbol of Costa Rican marine fauna.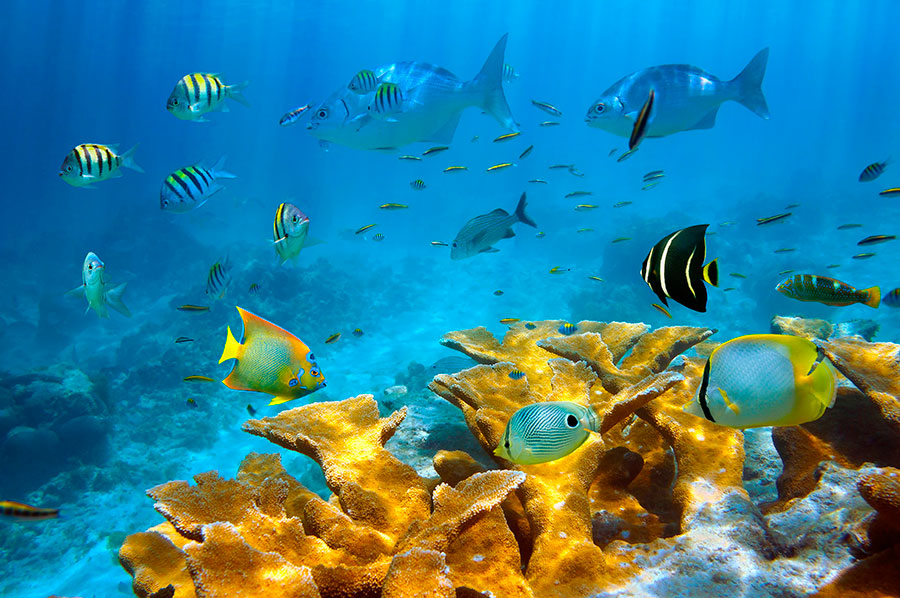 Seabed full of life in Costa Rica
This Refuge is located on the limit of the Panama border, 70 kilometers south of the city of Limón.
If you also want to discover the inland, dry season (which is December to April) is the most convenient time to visit.
[hr type="line"]
A Swiss cow can be just as important as a humpback whale, but there is more joy in splashing water than in a pasture field. Bear that in mind while travelling. If you have chosen to be happy, then you have to make in San José one of your stops. Costa Rica is not just a country, it's an emotion.  
[hr type="line"]