Sierra Nevada Doesn't Shut Down in Summer: 8 Things to do After it Thaws Out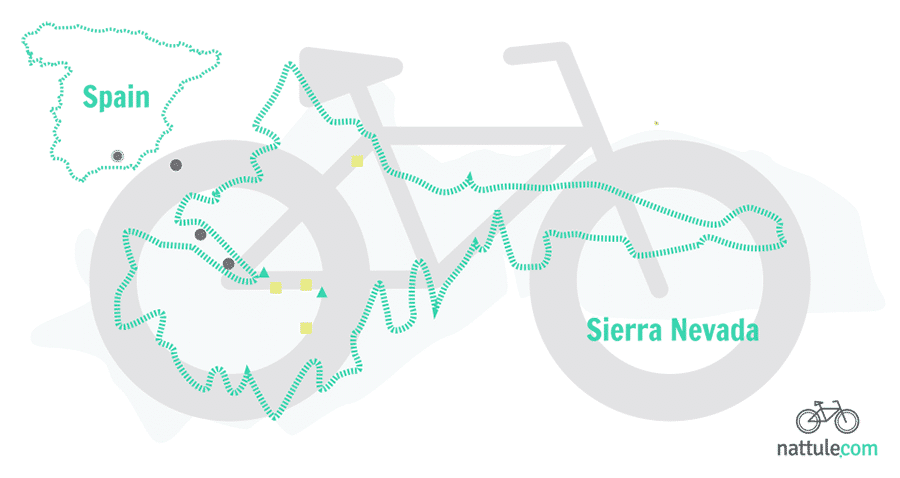 In the south of Andalucía, in the heart of the Penibaetic mountain range, we find Sierra Nevada, a protected area of 170,000 hectares located near the Tropical Coast, with the Mediterranean in the background.
This mountain range has the highest peaks in the whole Iberian Peninsula and hosts the most southern ski resort in all of Europe. But Sierra Nevada is more than ice and snow. Summer democratizes the mountain. In the end, we are all the same when we're in a prairie.When the giant slalom is not possible, Nattule suggests 8 options to enjoy this natural area without using the ski lift.
1. Hiking: Melting Snow Routes
A good option to get to know the National Park is hiking.
It is not like going to Rome, but almost. Every path in Sierra Nevada takes you to happiness. One of them departs from Hoya de la Mora, by the Universitary Inn, and connects with the path leading to Carihuela refuge (3,200 meters high), which is the last step to climb the Veleta summit. The walk takes about 3 hours. You can go back or continue to Caldera refuge, next to Mulhacén.
Carihuela refuge
In addition, Sierra Nevada has numerous paths that during winter form the resort's ski route. After the mountains thaws out, those paths are available for you, departing from Borreguiles, and are known as the Melting Snow Routes. The route is filled with small water streams, lagoons and plant formations that take you to Dílar, Virgen de las Nieves, Veleta and the Yeguas Lagoon.
Virgen de las Nieves
2. Mountain Races: Veleta Ascent
If you live fast, walking is not enough for you. Your only option is to run. Sierra Nevada has a wide variety of athletic competitions during summer. The most known are the International Veleta Ascent and the Sierra Nevada Mountain Festival.
The race has been making history for over 30 years. It is a classic among runners. It departs from the city of Granada and finishes after 50 kilometers at the Veleta Peak, 3,400 meters high. You should start to treat your quadriceps right, if you plan on joining the race.
Veleta Ascent race © www.subidaveleta.com
The Sierra Nevada Mountain Festival offers the possibility of running in three different types of races: vertical kilometer, sky speed and mountain race. In the first one, you will climb from Pradollano to the Veleta surroundings. The mountain race is a competition of about 20 kilometers in the ski resort area.
3. Mountain Climbing: Mulhacén Climb
One of the main highlights of Sierra Nevada is reaching the Mulhacén summit. Being 3,482 meters high, it is difficult to reach during winter, but in the summer time, it is a reasonable goal.
The climb begins in the Poqueira shelter, located at 2,500 meters high. You can spend the night there. During the climb, you will notice changes in the flora. You will need three or four hours to reach the summit. From there, if the clouds allow for it, you will be able to see the Atlas mountain range.
Mulhacén summit from Carihuela refuge © Manuel Pavón
Maybe Mulhacén is not enough for you. If that is the case, join la Integral, a mountain climbing route that takes 4 days. If you do it, you will reach most of the peaks above 3,000 meters in the Park: Alcazaba, Mulhacén and Veleta, among others. The path departs from Postero Alto shelter, in the Jerez del Marquesado village, and goes over the highest parts of the mountain range. Be aware that you will be spending the night in mountain shelters and that you will have to carry all your equipment, including a tent.
Path to Veleta summit
4. BTT to Alpujarras
Sierra Nevada offers wonderful biking routes for the summer time. Departing from Pradollano Ski Resort you can take a route of about 60 kilometers that will take you to the Alpujarras. You will go through Carihuela del Veleta, which is more than 3,200 meters high, and enjoy wonderful views over the National Park.
The BTT Nevada Center, with its headquarters in Mairena, offers different routes with a variety of length and difficulty: from 7 up to 70 kilometers. It is the first sustainable BTT center of Andalucía, which means that the physical sign posts are not placed, so you will need to make good use of the GPS and other technological help to get to your destination.
Bikers in Sierra Nevada © Pedales de Granada
If you prefer a thrilling descent, like boxing without gloves, join the 8 Bike Park circuits, reachable by 3 skilifts between Pradollano and Borreguiles. More than 30 kilometers long and almost a 1,000 meter slope, where you can enjoy without pedaling.
5. Astronomical Watching in Collado del Diablo
The Mulhacén is the highest peak of Sierra Nevada, but if you want to discover all the beauty of the Park, then you'll have to look even higher up.
During the summer season, nights are mild and the skies are clearer, which are ideal factors to watch the firmament over Sierra Nevada. You can do these watchings at dawn to see the constelations and planets from Collado del Diablo, north of Pradollano, or take the skilift in Borreguiles to watch the Perseids (meteor shower) at 2,700 meters high.
Starry ski over Sierra Nevada
Also, almost every summer weekend there are guided tours to the astronomical observatory that take place.
6. High Mountain Orienteering
Getting to know the technique to orient yourself in the nature is a key factor for every mountain climber hoping for a happy ending to the route. In Sierra Nevada, orienteering courses are given to understand how to use a compass, altimeter and a GPS, to learn to draw routes and make good use of a map.
These basic notions of planning expeditions and how to read topographic maps are taught in the Poqueira and Postero Alto shelters. In this last one, advanced orienteering courses are also given. If you decide to join them, you will have to live in the mountains for a few days.
Group of excursionists in Poqueira River
7. Paragliding from Güéjar Sierra
Now that you already know the National Park from the ground, perhaps now you'll want to fly over it. Sierra Nevada's location, its weather conditions and the high mountains, gives the area perfect conditions to go paragliding in all year round.
If you have never flown over 1,500 meters, then it is better to do it with an expert pilot. Take off is from Güéjar Sierra or Cenes de la Vega.
Tandem flight and Sierra Nevada in the background © Granaltura
The views of Sierra Nevada  from this height will not disappoint you. The needed requirements to join this activity are as follows: you must weigh between 40 and 120 kilograms, you must not suffer from any heart condition, and of course, you must not be afraid of heights.
8. Horse Ride to las Yeguas Lagoon
One of the best ways to get to know the National Park and its surroundings is by horseback riding. You may think that this activity is just for expert riders, but this is not true. You might not ride a thoroughbred, but well trained horses are available.
From Hoya de la Mora departs a two hour route that will take you through Collado de las Yeguas to the Yeguas Lagoon, where, at 2,873 meters high, the biggest dam of Sierra Nevada is located. On the shore of this lagoon you may find the hedgesparrow, the only alpine bird in Sierra Nevada, that is very friendly with visitors.
Horseback riding in Sierra Nevada © Cortijo las Encinillas
[hr type="line"]
Sierra Nevada does not hibernate during summer, the happiest season. Perhaps in February it looks brighter, but the available routes after the snow melts are also wonderful choices. Those who don't ski do not hesitate in visiting those mountains when white turns green. It may seems weird, but some prefer the caterpillar than the butterfly.
[hr type="line"]