140 Kilometers of Adventure in the Most Wild Area of Brazil: Pantanal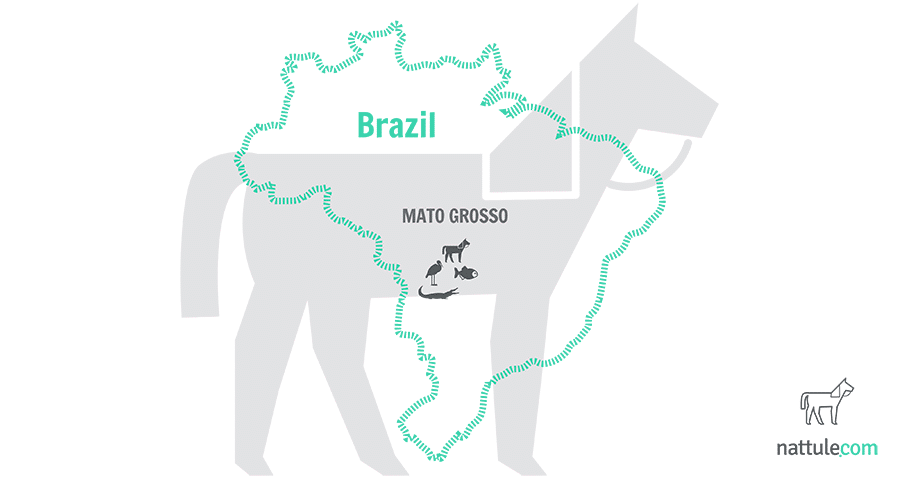 If you like to have everything in order, then Pantanal is not for you. But, if you are a García Márquez reader, then this is the place to be. Pantanal is a magical realism. Not because jaguars dance bossa nova or there are caimans trafficking with gold teeth, but because this wetland, reaching parts of Brazil, Bolivia and Paraguay, seems to have been taken out of the book One Hundred Years of Solitude. This makes it the perfect destination for travellers who are not afraid of losing their luggage.
Luggage are for those who want to return after their journey. However, here, going back is not an option. Whoever wants civilized fauna should go visit a zoo, and whoever wants to see organized flora, should go to Holland. You are not one of those, however, and that's why you'll choose Pantanal. Bear in mind that when you come here, you are entering a wild habitat.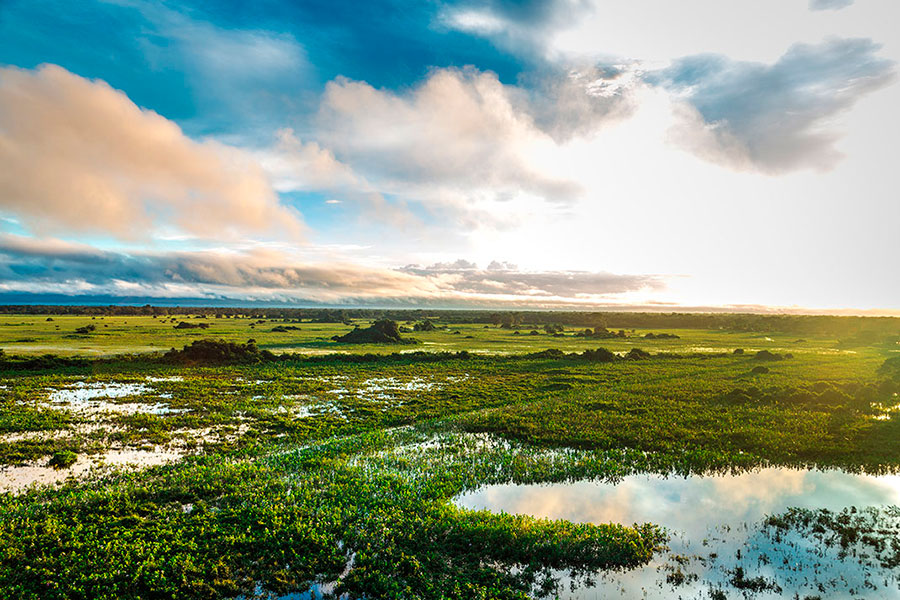 Pantanal, the biggest wetland of Brazil
Listed as the biggest freshwater wetland on our planet, Pantanal is the perfect destination for those arriving in South America looking for green vibes. The wetland is not very populated. There's an average of about a million trees for every person. During the rainy season, natives use boats or pantaneira horses to move around this protected area of about 220,000 square kilometers.
It's quite easy to get there. At Cuiabá, the capital city of Mato Grosso, is the entrance to the northern area of Pantanal. There you can rent a car and travel the 140 kilometers of the Transpantaneira Route, a dirt road connecting Poconé with Porto Jofre. On this route you will go over 120 wooden bridges.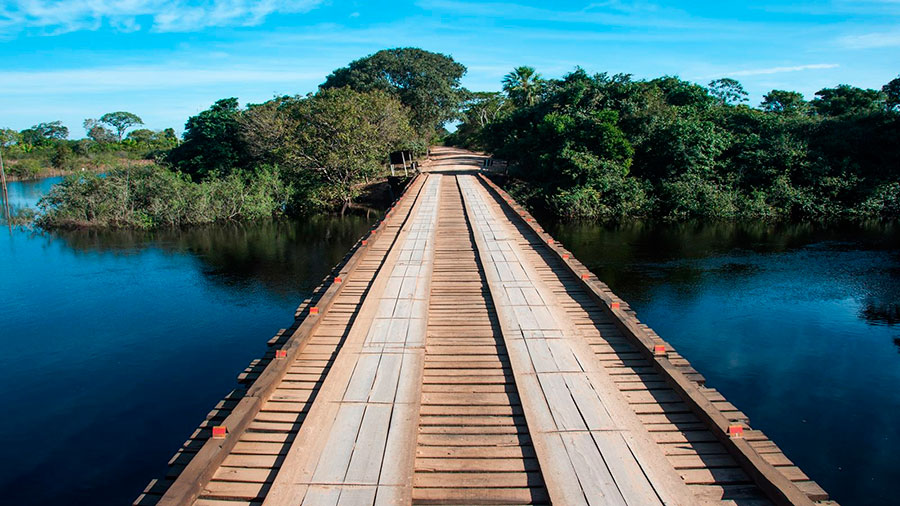 Wooden bridges are a landmark of Transpantaneira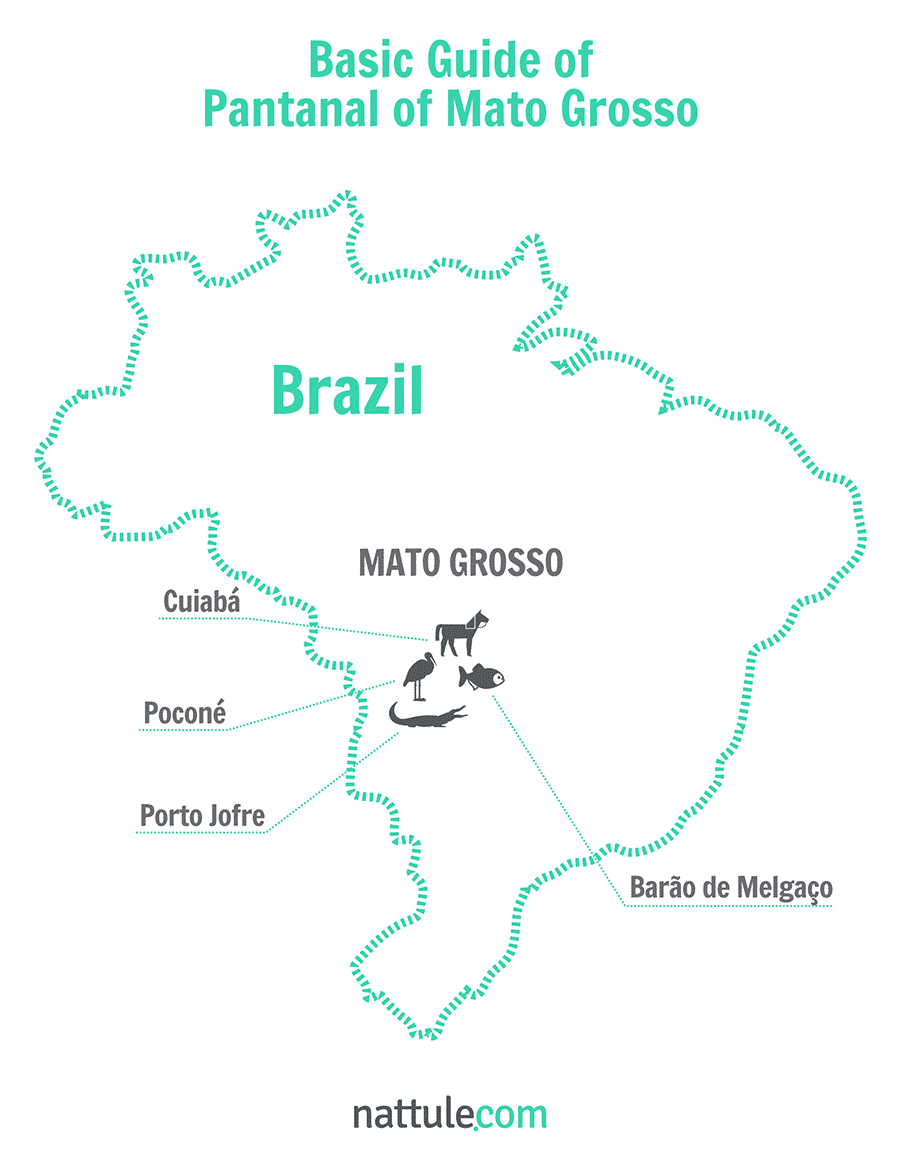 Along the way, Nattule proposes 6 ideas for some great adventures:
1. Wait for the Sunrise or Sunset in Order to Observe the Wildlife
Dry season is from June to October and is the best season to observe fauna. The low waters make it easy for most of the big mammals to move from one place to another. Also birds, like the hyacinth macaw, jabiru and greater rhea and mammals like capybaras, anteaters, deers, tapirs and maned wolves are easy to see. In order to be able to see anacondas, giant otters and jaguars, you must wait until sunset. These ones don't get along well with the heat.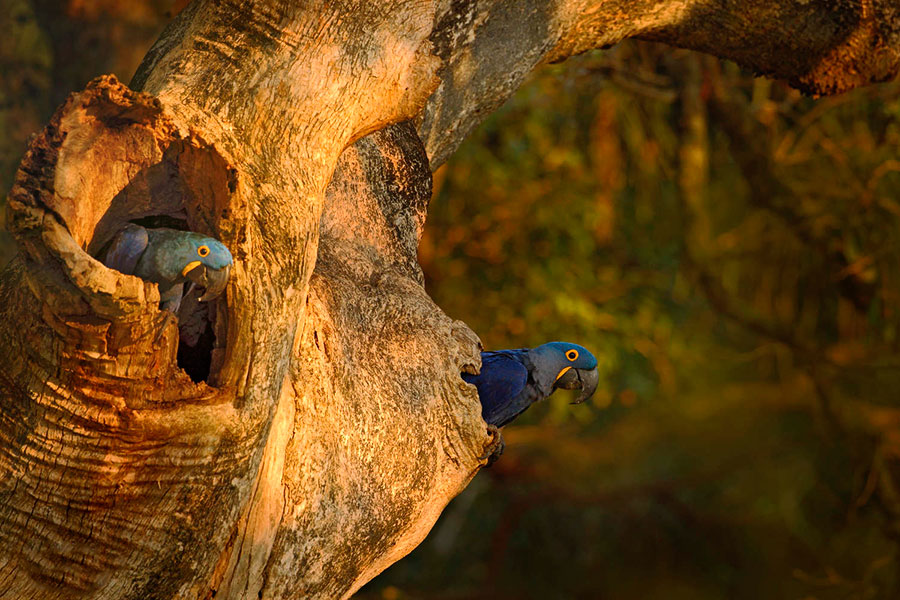 Hyacinth macaw poking around from a tree
From 5 a.m to 10 p.m. you will have the chance to see all types of animals. A good option is to depart from Cuiabá and take the road to Poconé, 100 kilometers away. Once leaving behind that city, the road changes into a dirt path known as Transpantaneira. Just a short one-kilometer drive down and you will be in the depths of Pantanal, where you will be able to observe a variety of birds and capybaras.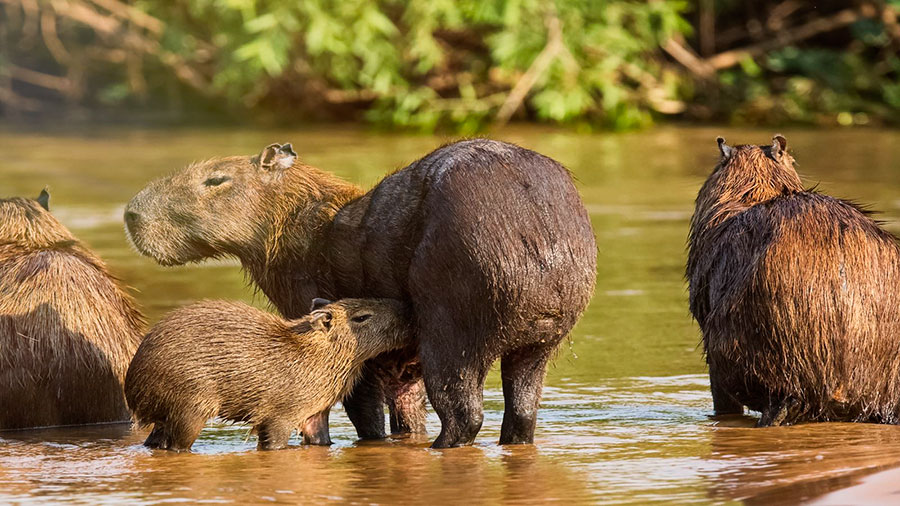 A group of capibaras cooling down
2. Horseback Riding at Sunrise
Horseback riding allows you to reach the flooded areas, unreachable by car or foot. Most of the accommodations in Pantanal offer these types of guided tours. There is a variety of different tours on the stretch of Cuiabá to Poconé. A local guide will guide you through flooded areas during rainy season. If you are not an expert rider, then the dry season is your best option.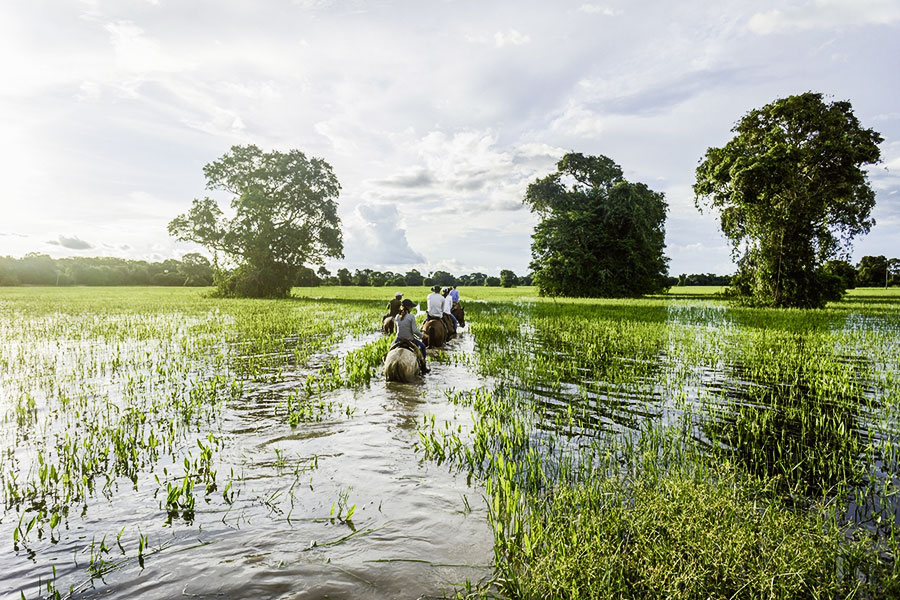 Horseback riding is the best option for the rainy season
Do not forget to wear appropriate clothing, mosquito repellent, boots and a hat.
3. Fishing Ecotourism in the Piranha's Den
The wetland of Pantanal is known for its rich variety of river fishes. There are about 250 different ones, which means that there are more species there than in all of Europe. At the Cuiabá and Pixaim rivers there is a big fishing tradition. In the little town of Barão de Melgaço, just a couple hours from Cuiabá, fishing is the economical motor of the region.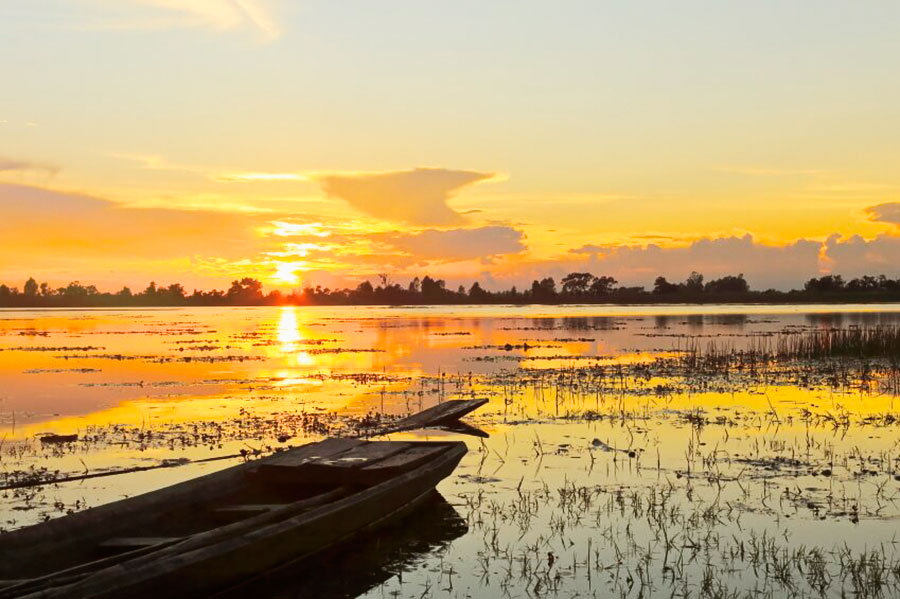 Beautiful sunset over Cuiabá River
A guided visit to the corixos (local word used to name the temporary water courses formed during the rainy season) like the Moquém, Corixão or Corixo Verde, is the best option to understand the intricate and delicate water cycle that maintains this ecosystem.
Also, if you want to get to know the Pantaneira culture better, try some of the local dishes like the piranha soup, or spotted sorubim and pacu, which is cooked traditionally.
4. Pantaneira Hiking
Hiking during dry season and with a local guide is a great opportunity to get to know the different areas of Pantanal, and have direct contact with the flora and fauna. Be aware of the high number of yacare caimans, which will certainly make you feel that you are in an area where the word "wild" is not strong enough to describe it.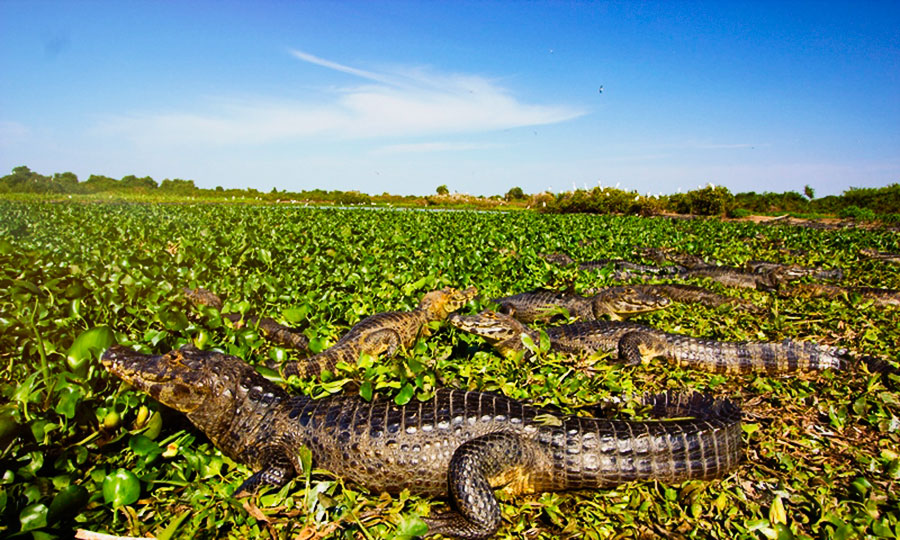 Yacare caimans basking in the sun
One of these hikes will take you to the Claro riverbed, just 40 kilometers away from Poconé. There, in a wooden platform built on a tree, you will have a 360º view of Pantanal, from the rainforest to the savanna. If you are an early bird you can enjoy the amazing sunrise over Pantanal.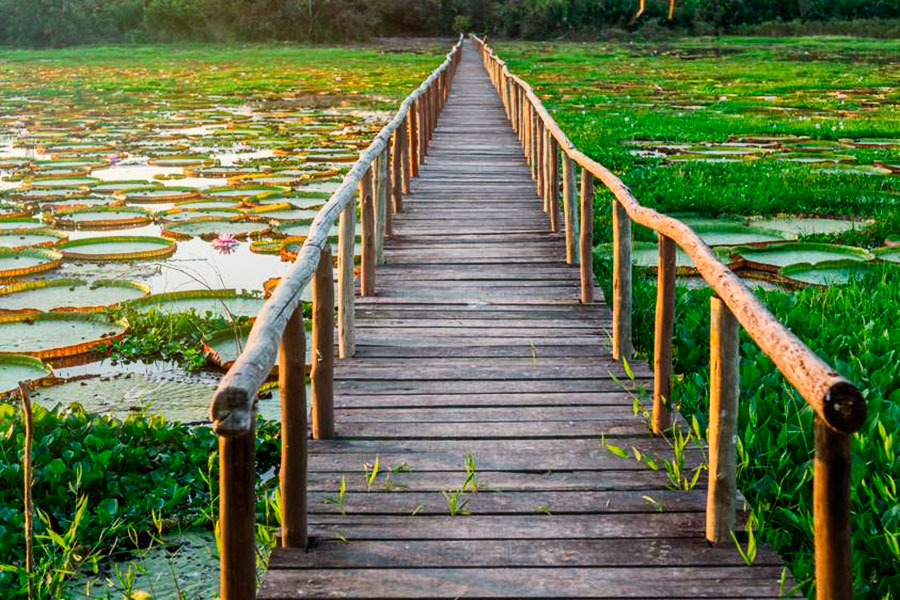 Just walking you can find amazing spots
5. Camp with Locals and Their Cattle
Local ranchers have two yearly appointments, marked by the season. During the cattle marching, you will accompany them in search for better pastures and you will work with them side by side. In addition, you will organize cattle, mark them, and even cure some of them.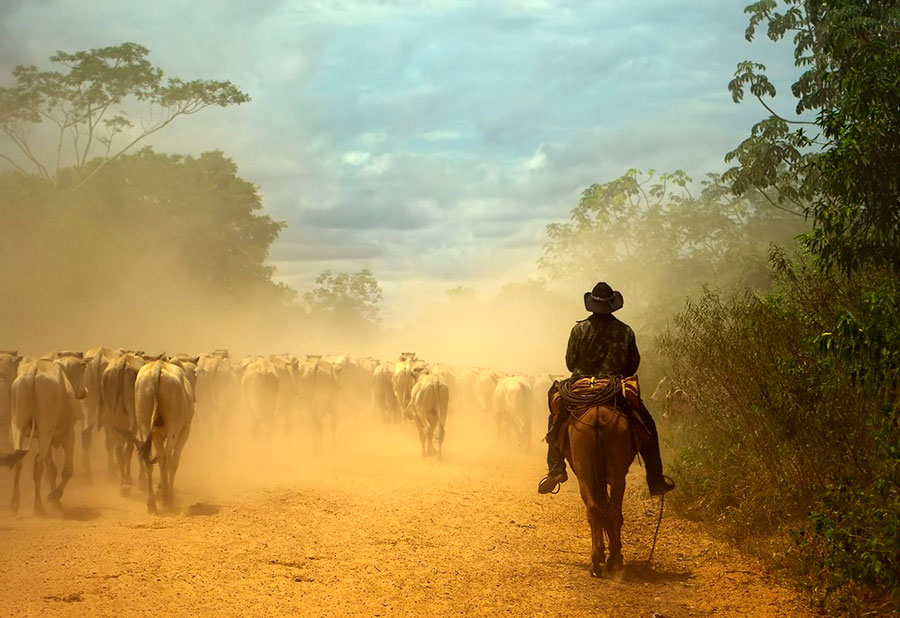 Locals guiding cattle in Transpantaneira
At the end of the day you will camp in the middle of nature, chat with farmers and enjoy a typical dinner by the fire on a starry night.
6. Nightly Canoeing Safari
Between Poconé and Porto Jofre, you'll be able to get on a canoe and navigate the Pixaim River or Claro River, where wildlife is the protagonist.
If you want to see the biggest feline in America, you must go through the Transpantaneira at the crossroads of Cuiabá, Três Irmãos and Piquiri, on the edge of Porto Jofre.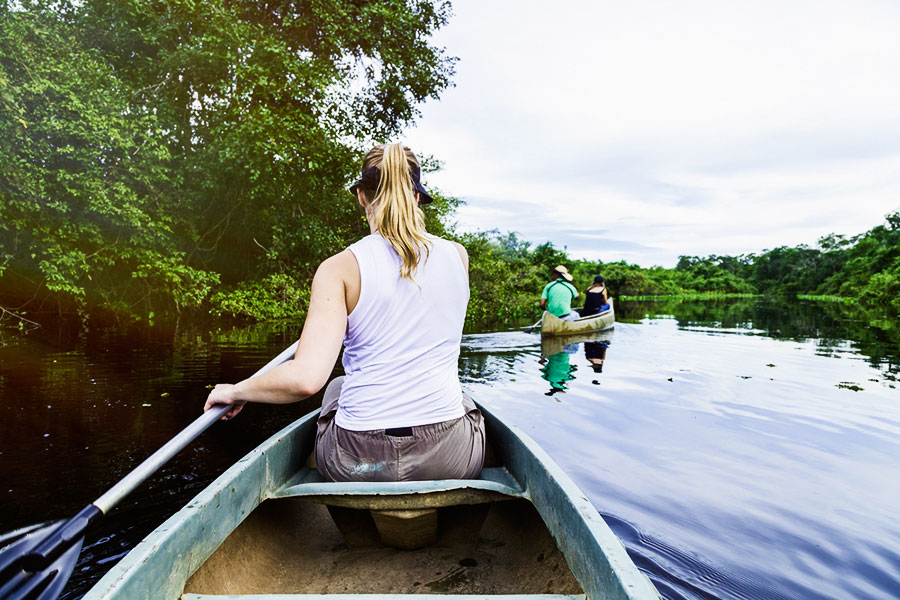 Wildlife watching from a canoe
This spot, located at the Encontro das Águas State Park, has the biggest jaguar population in the world.  A stealthy canoeing tour at sunrise is the best option to see the king of this jungle.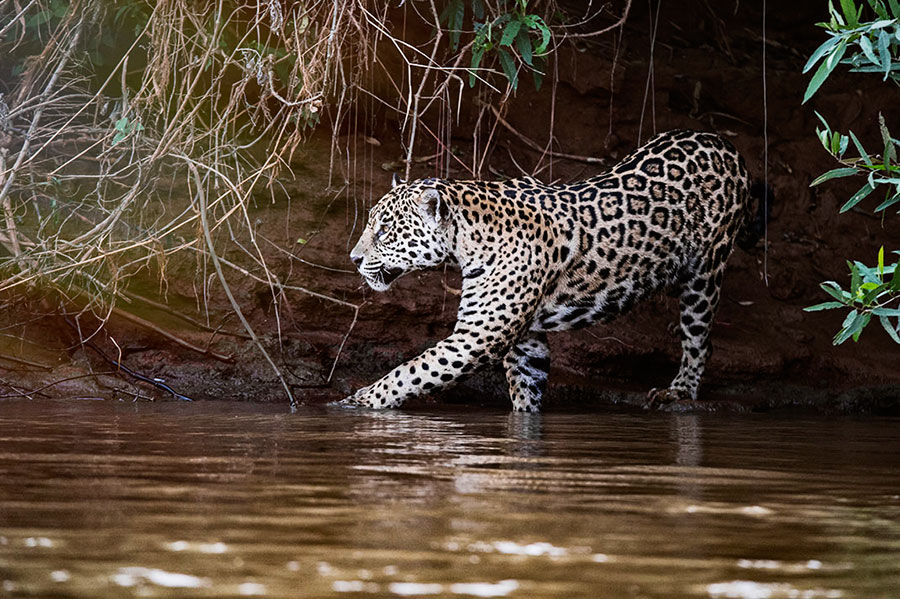 A jaguar approaching cautiously  the banks of Piquiri River
[hr type="line"]
At Pantanal you won't pinch yourself to check if you are dreaming or not, but you will do it to keep awake. Pantanal is a fight. Plants, birds, rain, fishes, ponds, reptiles, lagoons, felines and wetlands collide in one big battle. Pantanal finally decides who wins.
[hr type="line"]