17 coves in Spain where swimming is not the only important thing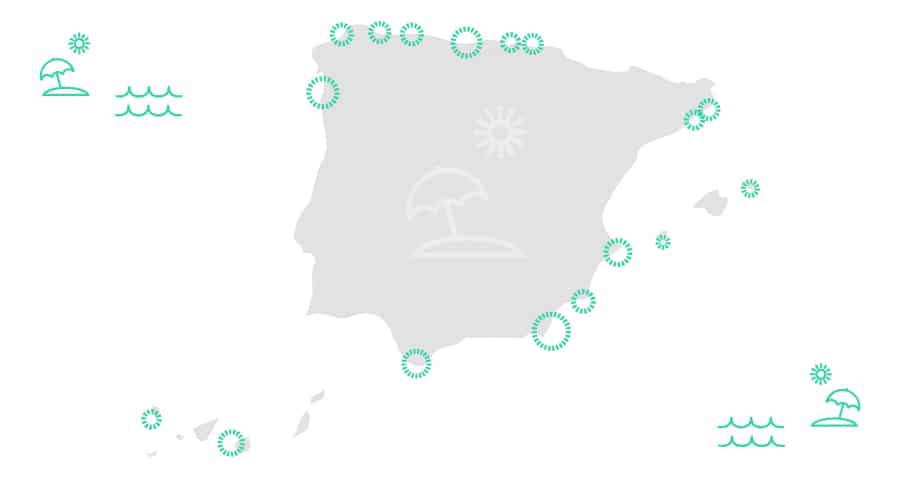 In Spain there are as many types of coves as beaches are. We find two seas, the Mediterranean and the Bay of Biscay, and a large ocean, the Atlantic, which have shaped, and still do today, the Spanish coast, which has resulted in endless colors in the sands, landscapes and, of course, different tones of the blue in the sea. Thus, a tour through the best coves and beaches in the country could be used to create a 5-star catalog for every tourist.
Below, you can find a list of beaches where swimming is just another option and, sometimes, it's not at all.
Yes, these beaches are those kind of places we would write a book about, or to fall in love with. They are also exceptional places to practice ecotourism or adventure activities. Then, swimming becomes something secondary.
After reading this post you can choose between two options: make a route though all of them (it requires a lot of time but it is not impossible), or choose the one you like the most and go to experience the area to the max.
LAGOELAS COVE (CANGAS, PONTEVEDRA)
The small cove that we find here is in the Ría de Aldán one. It has about 50 meters of rocks and sand surrounded by beautiful vegetation. These waters allow you to enjoy the quietness we seek when getting lost in almost deserted beaches.
This beach is a corner of natural and virgin land available to those who, when traveling, seek to enjoy the sound of wind and waves. Of course, to get to it you must follow a path, for fifteen or twenty minutes, starting from the beach of Menduíña and that will take you to this lovely little piece of sea.
ARNELA BEACH (SADA, A CORUÑA)
The beach of Arnela is a place of approximately 150 meters long that contains some quietness difficult to get anywhere else. In it, you can extend your towel if you want to take a break: its sand is fine and white. But you will also find rocks that will provides a wild and charming side to this beach. In your eyes, it will turn out to be like a landscape painted in oil.
Near the beach, there are numerous options for hiking. The "Costa Dulce" route is one of them and leads to a cove. The other option is to access the beach by boat. It usually has few people, so, whenever, you will almost certainly enjoy a day of calm waters and peaceful atmosphere.
AREOSA COVE (RIBADEO, LUGO)
This small beach is 50 meters long and one of the wonderful corners of Lugo where you can find a haven of peace. Its low influx of visitors and easy access on foot make it a key spot of the coast in Lugo: one of those beaches to add to your list of essentials.
One of its best things are its cliffs. It would seem like a sea monster have taken a bite of the coast and would have formed the beach that we see today. It is true that it is not the typical sandy beach where you can choose where to lie, but it is a beautiful beach to go for a walk. And how can we forget the green areas of its surroundings and its clean waters. Certainly impossible.
BEACH OF THE SILENCE (CUDILLERO, ASTURIAS)
Besides being known because of Picos de Europa National Park, Asturias has other places of great tourist interest. In this case, this beach is better known than some of the ones we have talked about in this post. If we arrive to the town of Castañeras, there will be numerous indications that will take us to it. We can leave the car here and get to the beach on foot, since the access on foot is easy.
On this beach, as in life itself, the road is as or more important for reaching this spot than the end point of the journey. The views during the tour are magical. In fact, we believe that, to be called El Silencio beach, it must be because of how one feels when facing the impressive cliffs. Once down there, the best thing you can do is to look at the sea, take a breath and enjoy the moment. Few things are worth as much as sitting in front of the sea and not thinking about anything.
PEDRERO OR PEDRERU BEACH (VAL DE SAN VICENTE, CANTABRIA)
Again we find a quite peculiar beach. With a lot of unevenness and with few areas where to place our towel. However, the Pedreru beach is one of those beaches where you can go to take pictures, explore the surroundings or lie down peacefully.
In addition, only 20 minutes separate Val de San Vicente from San Vicente de la Barquera, where you can enjoy a surfing course in Cantabria for a more than reasonable price. The two for one are always good offers, but when applied to activities in natural spaces, that is already known as "how to take advantage of the best opportunities", in capital letters.
AZKORRI BEACH (GETXO, BIZKAIA)
Azkorri is one of those movie beaches where you can see a person on the cliff, watching the sea, and in the background a wild, virgin, lonely beach. The green areas want to go into the sea at the same time the sand does. With almost 900 meters of sand where to rest, this beach has its access on foot and, in addition, it has a zone of nudism. One of the greatest charms of Bizkaia.
In addition, if you are one of those who see the beach as the ideal place to practice sport in natural spaces, here you have the option of hiking on the Basque coast, a mix of sea and mountain and, of course, it is more than recommended.
SAKONETA COVE (DEBA, GIPÚZKOA)
Located in the Geopark of the Basque Coast, the Sakoneta Cove is characterized by the so-called flysch, rock formations in which a layer of soft sediment is interspersed with a layer of hard sediment. The first, being more susceptible to erosion, reveals layers of hard material, and the result is a geological formation that looks like an authentic mille-feuille, as well as being an excellent example of the geological history of the place.
In the Basque Coast you can follow a route that will take you to beaches with similar characteristics. And of course, you can also take a dip or do nudism. An authentic spectacle of nature.
MOLÍ COVE (SANT FELIU DE GUÍXOLS, GIRONA)
La Cala del Molí, apart from being a magical place like a cove is, is unique due to its greater attraction: the via ferrata that runs along its cliffs. Cala del Molí via ferrata is the only one in Europe located on the sea. That is, if you have that adventurous side that forces you to seek exciting times wherever you go, this place is ideal for you. You can walk the via ferrata and, when you finish, take the chance to have a dip in one of these paradisiacal coves.
We have already said it before: luckily, in Spain we have a coast that allows us to enjoy it beyond a simple dip, and Cala del Molí is great proof.
ESTRETA COVE (PALAMÓS, GIRONA)
To access this beautiful cove in the Costa Brava, it is necessary to walk about 40 minutes from Playa es Castell, taking the path towards north and the interior. The journey will be worth it, given the great natural and scenic value of this cove. This way, to get there you will have to enjoy hiking: of course, a great reward, will be this amazing cove. In addition, it is said that in an old fisherman's house, lives an endearing gentleman with white hair. In short, a cove with a legend.
Of course, these coves are equally fascinating both from the bottom and from bird's eye view. And you're lucky, because in Empordá you have the option to fly in a balloon on the Costa Brava.
MACARELLA AND MACARELLETA COVES (MENORCA)
In this case we have not been able to avoid selecting two coves that, in summer, are somewhat overcrowded. But this fact is more than justified. These two sister coves have an impressive views, in turquoise waters. If you can visit them at times of the year when bathers prefer to stay at home when it's colder, they will seem like true paradisiacal beaches. In addition, if you decide to visit the two (which would be convenient), you can enjoy your sports side: from Macarella to Macarelleta there is a very nice hiking trail.
On the other hand, Macarella has bar service, but Macarelleta does not. However, what makes the latter particular is that it is a nudist area (and this is why Cala Macarelleta is well known in Menorca).
BASTER COVE (FORMENTERA)
The first thing you must bear in mind before visiting this cove is that it is totally rocky, and its charm does not come, precisely, for its white and fine sand. Therefore, have good shoes to walk. However, this beach, facing north, has numerous caves full of history, as well as old structures that served to boats for many years. All of this gives it that bohemian side, which makes it enter this list.
To access it we must descend a path that borders the cliff, leaving our car behind.
LLEBEIG COVE (BENITATXELL-MORAIRA, ALICANTE)
This small cove on the Alicante coast is mainly made up of rocks, although it is possible to find a hole to sit on the sand. Those who have already been able to visit it will know of the importance of wearing good shoes due to the abruptness.
This fact won't cause an extra effort, since, to reach it, there are only two ways. By sea, in a small boat, or through two routes: the Ruta dels Penya-segats (Route of the Cliffs) or through the channel of the ravine of the Widow. It is the perfect cove if your intention is to take advantage of doing a little hiking and finding a real paradise at the end.
CALBLANQUE BEACH (CARTAGENA, MURCIA)
From the beach of Calblanque we could highlight its naturalness and its wide landscape, which seems to allow us to breathe better. Golden and fine sand fine, ideal to lie down to rest. Yes, here you can make a typical summer plan: swim, sun, sand, and, why not, some good wine. Of course, if you want to enjoy all of this in the maximum possible, avoid the summer season, which usually attracts more visitors.
Also, if you have decided to visit Murcia to do ecotourism and snorkeling in Cabo de Palos, Calblanque is just a few minutes walk away, so you can combine both plans.
SAN PEDRO COVE (LAS NEGRAS, ALMERIA)
You have two options to get to Cala San Pedro, historically more isolated because of its difficult access but which can become widespread during the summer. This is why we prefer to leave this cove for the list of beaches to visit during winter.
The first option, and perhaps the most exciting one, is to do one of the hiking trails in Cabo de Gata-Níjar Natural Park: the San Pedro Trail – El Plomo – Agua Amarga. From Las Negras to Cala San Pedro you will have to travel a little over of two kilometers of pleasant walk and in contact with nature. Of course, always choose to go as comfortable as possible: although the destination is a beach, this is still a trekking route. The other option is to get there by boat.
LOS LANCES BEACH (TARIFA, CÁDIZ)
In the province of Cádiz it is difficult to opt for a single beach: the more virgin, the more wild will be. But if we have to choose one, that is Los Lances one, in Tarifa.
It is one of the best beaches to practice kitesurfing, one of the many activities in natural spaces in Andalucía that you can practice, and because of that, the sky over this beach is completely filled with kites. Although it may seem overwhelming, or that it destroys the landscape, the truth is that watching it is a true spectacle. When you practice it, you feel a mixture of excitement and quietness. And if you do not believe us, try it.
It is also a great destination for MTB lovers, with a route through the Natural Parks of Cádiz, which stops at another of the magnificent beaches of this area: Valdevaqueros.
GÜI-GÜI COVE (SAN NICOLÁS, GRAN CANARIA)
This beautiful cove is one of the few virgin ones of Gran Canaria. It has a special charm, both for the coast inviting you to lie down and for the spectacular trekking route that starts from Tasartico to Güi-güi. In total they are, round trip, ten kilometers, approximately. The journey is amazing, and the end of it, a great reward for the traveller.
LA ZAMORA BEACH (FUENCALIENTE, LA PALMA)
The black beaches of the Canarian archipelago attract people for many reasons: for their color, for the presence of volcanoes near many of them or for their quietness you can find here.
The beach of La Zamora has the first and last reasons, although it is true that San Antonio and Teneguía volcanoes are nearby, where you can adventure a hiking through the volcanoes of La Palma that will make you enjoy, altogether, the mountain, the sea, the volcanoes and hiking.
INFOGRAPHIC: THE BEST SPACES OF SPAIN
This post is not intended to be any guide to follow strictly. We simply want to show a brushstroke of those corners in the Spanish coast that have stolen our hearts, and we would not think it twice when recommending them.
At Nattule we believe in the importance of keeping the beaches in their most natural state possible, since it will depend on this that we can continue to enjoy them for a long time. Therefore, if you have decided to visit any of them, it would be convenient to follow these tips:
# 1 The beaches in their natural state are a delight for those who visit them.
We love the vegetation that surrounds them, the crabs that emerge from among its stones, and the birds that fly over the coast. The beach is not going to disappear because you take a small shell as a gift, nor is it going to extinguish a species because you take a bunch of some rare flower, but think that if all of us who visited the beach did the same, then it would be a disaster. So valuing the ecosystem is essential. Please, enjoy each element in their habitat and, when you return home, leave the place as you found it.
# 2 Respect other visitors.
It is true that sometimes you will find yourself alone in one of these beaches, but some of them in summer get busier. If you want to listen to music, use your helmets, and if you feel like playing in the sand, notice that no one is eating a snack nearby; Beach sand between your teeth can be somewhat uncomfortable.
# 3 Part of the charm of these beaches is that there are no buildings or other infrastructure in that place.
Neither containers for waste. Therefore, be responsible and collect all your garbage when you leave the beach. Also the cigarette butts of your cigars, as well as the shells of the fruit.
# 4 Find out more about the characteristics of each beach
Check how the wind is, how the currents are, what rules are in each of them. On some beaches there no bathrooms. Please, be aware of this.
# 5 The last and most valuable advice may be: enjoy
Live a magical day. Take the opportunity to meet incredible people. Think of the wonderful life in front of the sea or on the way to it. And finally, forget for a moment the stresses of your routine to enjoy the only routine that is worth seeing: the sunset.