Canyoning in green river: flora and fauna that you can see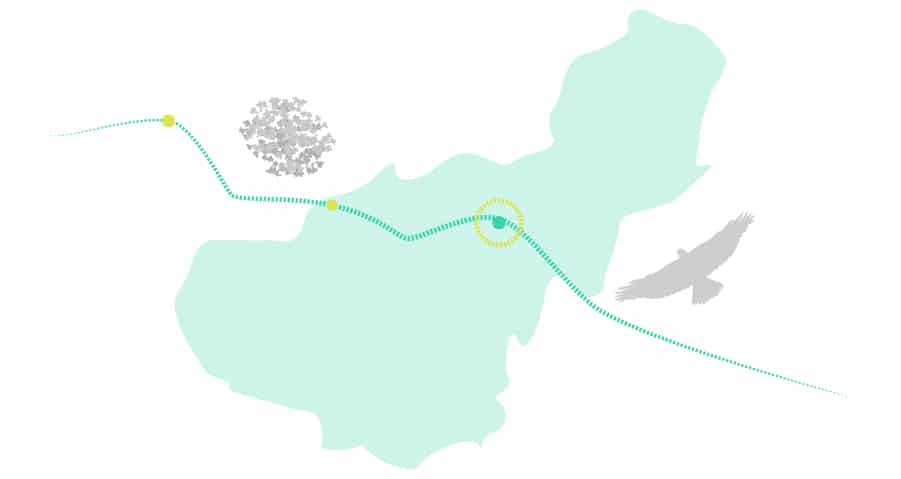 Knowing nature does not always mean you must be carrying a magnifying glass in one hand and a field guide in the other. It does not mean that these matters are not important, it is true, but let's say that, for those who find it a little boring having to go to the countryside to study, there are other methods.
Active tourism and adventure activities offer travelers the chance to discover and learn from natural environments, while enjoying what they are passionate about. And this is possible thanks to qualified local instructors and guides, who go beyond what we can see, ensuring your safety. Those who enjoy, let's say, a day of canyoning, can see the best side of a place.
Canyoning in Spain began in the 80s, and it appears it started in the hands of French adventurers. At that time, it was Sierra de Guara and its enormous variety of canyons and ravines the place that opened the door to this sport in our land.
To this day, fortunately, this sport is enjoyed in many parts of our geography. Also in southern Spain, of course. Thus, canyoning in green river, in Granada, has risen in recent years as one of the best descents of ravines in Andalucía; allowing us to enjoy, in addition to an intense day of excitement, the wonderful nature that surrounds this river.
That's why, in this post, we will help you to discover the environment of green river, and to know some of the flora and fauna species that you can find if this is your place of canyoning.
Are you ready?
THE ENVIRONMENT in green river
Green river owes its name to a remarkable characteristic: its crystalline and green waters. Besides being important for having different sections where you can practice canyoning, it is also an ideal place for regulars to go hiking or MTB in the Andalusian province of Granada, like this incredible MTB route of 5 hours in Tejeda, Almijara and Alhama.
Green river was born in the Natural Park of Sierras de Tejeda, Almijara and Alhama, specifically in the municipality of Otívar. It has 20 kilometers in length runs, until finishing in the Mediterranean, passing through the municipalities of Lentegí, Jete and Almuñécar, modeling its landscapes.
This river arises after the union of several streams coming from the surrounding ravines. As it passes, the limestone material erodes, forming jumps and canyon areas, waterfalls and pools of turquoise water. All this contributes to the fact that the descent through the canyon of green river turns into a splendid adventure.
Throughout the tour, we found a clean and weedy channel, surrounded by an intense riparian vegetation. The best thing is that it has water throughout the year, and if we are well equipped we will not go too cold, since the river receives sun in many sections of its route.
THE VEGETATION THAT SURROUND US
Without speaking of technicalities, it is necessary to know what kind of soil we are in to understand the vegetation that grows in one place. The ground where green river makes its way to the sea is limestone; therefore, general vegetation is typically of the Mediterranean forest (rosemary, rockrose and mastic, to mention a few).
Among this typical vegetation, however, there are some interesting, more specific species of the area, which is worth noting.
One of them is the Erica multiflora or winter heather. It is a characteristic plant of these mountains, which can be seen in flower in the coldest months of the year. It has an aspect that could remind us of a little monster with a thousand heads; but that pink color and the shape of its flowers makes it a plant that moves away from derogatory adjectives.
The Pinguicula vallisneriifolia species, better known as Andalusia grasilla, is a carnivorous endemic plant in sierras de Cazorla, Segura and Las Villas. However, you can also find it in the mountains where Verde River runs, such as the Sierra de Cázulas, where some population of this species are classified as a differential species of this area.
Despite being a carnivorous plant, you do not have to be scared. As it's other name describes, is a flycatcher, which indicates this plant only feeds on small insects that unluckily end up landing on these plants.
Finally, another differential species is Thymus granatensis subsp. micranthus. This type of thyme grows on dolomitic soils; and it is usually found by the jienenses Sierras of Mágina and Cazorla. That's why it's a pleasure to meet you in these spots.
ONLY FOR THE BOLD
Canyoning in green river is only authorized in a certain area of ​​the channel. The first thing you must do to practice it is to ask for a permit from Junta de Andalucía.
Of course, you must also be honest with yourself when entering an adventure activity like this one: know your physical and technical conditions, as well as take all the necessary measures. This is in case you are already an expert in the field and do not need the help and guidance of a qualified instructor; which, in any case, is always recommended.
During the descent, you will find two sections of different levels. The first part of the confluence with Madroñales canyon, near Cueva de Funes waterfall. This is the most technical and exciting part of the ravine. Also, one in which you will find fewer people, because you need some experience to do it.
This section is short, but very vertical. You must overcome several rappels, slides and jumps of different heights. If you see yourself one with strength, do not miss the opportunity to enjoy all this by making the complete descent of the ravine in Verde River.
THE NEIGHBORS OF THE Verde RIVER
While we descend Verde River, focused on our adventure, we may have the sensation of finding ourselves alone in the mountains.
Nothing further from reality. If we spent a few minutes observing and listening to our surroundings, surely we could witness some sounds or traces that reveal the presence of other inhabitants.
In fact, this would be a good place for a day of birding in Andalucía. And the birds are so diverse and have such a curious behavior, that the simple fact of being able to take a pair of binoculars and devote a little of our time to observe them is useful for finding peace.
Raise your eyes to the sky for a moment to try to recognize some birds of prey in flight such as the golden eagle, the Bonelli's eagle or the peregrine falcon. Of course, this depends, as always, on our luck, on the season of year and, why not say it, on how quiet we are.
You can also find a more adventurous animal, the exemplary mountain goat climbers, able to stand on a tiny surface.
Other small animals, such as the otter, the common squirrel and smaller birds, are also part of the fauna of this area. Although, undoubtedly, they will be much harder to witness.
THE LAST SECTION: caños cruzados
In the so-called Caños Cruzados waterfall, the last part of our descent begins. This is the stretch that most people usually do, since it is not so vertical, the jumps are lower and have fewer rappels.
This does not mean that the fun is any less. The descent of the classic section of Verde River has enough jumps to leave no one indifferent. All this surrounded by hollows, ferns and an abrupt vegetation.
If you have not started the descent in its upper part, you will have to reach Caños Cruzados by following a small hiking trail. This road is as enjoyable as the channel; It has small overhanging bridges, viewpoints and waterfalls.
Here you can see it with your own eyes in this video of one of our collaborators, the company of experiences in natural space, SaltaRíos:
Choose only this last section or the complete descent, what is clear is that a day of canyoning in Verde River is the best option to unleash some adrenaline, enjoy the environment and learn a little more about the flora and fauna living in the beautiful sierras de Tejeda, Almijara and Alhama.