The greatest sunken treasures in Spain: where they are and how to find them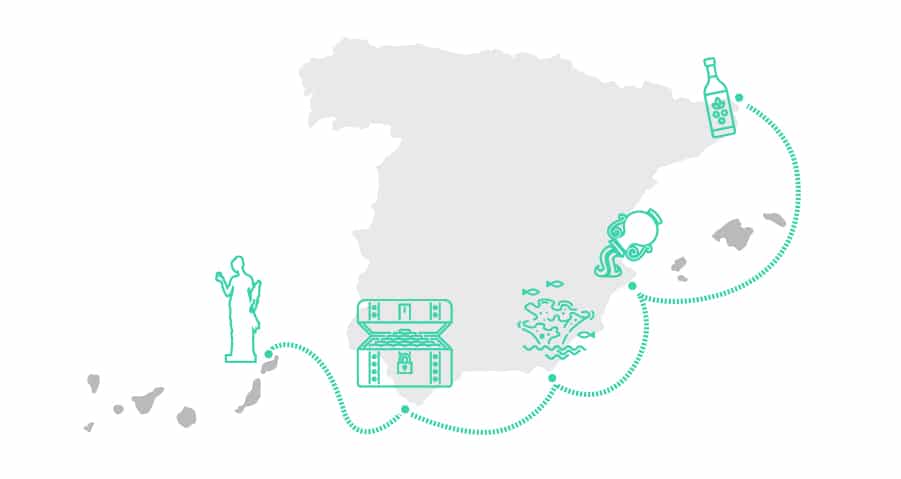 The ocean keeps incalculable secrets.
To know all of them is the dream of every self-respecting diver. Not in vain, diving is one of the most fascinating and mysterious adventure activities that exist. And we are in luck, because Spain is an unbeatable country to practice it.
Its coasts are not only plagued by a great natural and ecological wealth. Beneath the surface are also hidden a multitude of treasures from wrecks that have occurred throughout history. Many of them are impossible to locate or access. But others are within reach of archaeologists and, sometimes, even visitors.
Those who carried galleons and ships are just one of the many treasures you can find in Spanish waters. Well, every day, new submerged surprises are created or discovered and are waiting to be visited.
We make it a little easier by telling you where to find five of these submerged "treasures" in Spain.
A HISTORICAL TREASURE: THE REMAINS OF THE BAY OF CADIZ
"There is more gold in the Bay of Cádiz than in the Bank of Spain."
This phrase became fashionable years ago, when they began to investigate the amount of sunken treasures near Cádiz. And is that the researches suggest there might be hundreds of ships from America resting underwater, with their corresponding shipments of gold, silver and precious stones.
Unfortunately, the plundering in the area has been recurrent; perpetrated even by foreign treasure hunters. However, there are still some small treasures submerged in the Bay of Cádiz that can be visited. Even without descending too much.
An example is the remains found in La Caleta, next to Punta del Nao. You will not have to face the 15 meters of depth to find pieces of pottery, Roman traps, eighteenth-century cannons and even part of the copper lining of a galleon.
This dive shows that you do not have to have great experience in order to feel like Jacques Cousteau under the water.
A NATURAL TREASURE: THE POSIDONIA OF CABO DE GATA
The Natural Park of Cabo de Gata-Níjar is a place of long tradition in diving. Its ecological value is incalculable and the species of plants and animals that inhabit it are counted in thousands.
Among them is the oceanic posidonia, an authentic natural "treasure" endemic to the Mediterranean that is partly responsible for this great biological wealth. The posidonia meadows are usually observed from 15 meters deep, entering from any of the multiple dive sites of Cabo de Gata.
Remember that if you are going to dive on your own with your own equipment you will need to request an authorization in the Subdelegation of the Government of Almería or in the offices of the Natural Park.
To save paperwork, or if you lack experience, it is best to join this diving baptism activity in Almería. They will give you all the necessary instructions and you will have the help of the instructors on the descent.
AN ARCHAEOLOGICAL TREASURE: THE PECIO BOU FERRER OF ALICANTE
One of the greatest experiences you can have in life is to visit a wreck or sunken ship. Specially, if it's one from the Roman era (the largest of this time in the Mediterranean) that had over 2,500 amphoras filled with fish sauce and lead ingots belonging to the Emperor Nero.
This incredible underwater treasure is located off the coast of Villajoyosa, in Alicante. Because it's an accessible depth (25 meters) it has been possible to carry out several actions for its study and conservation. But in addition, this wreck is a pioneer in the reception of guided underwater tours.
The visits are made under the permission of the General Directorate of Culture of the Generalitat Valenciana, with prior reservation and an assigned donation to cover the expenses of guides and archaeologists. It is imperative to be in possession of an advanced level diving certificate and to accredit a minimum experience of 35 dives.
If you have been bitten by the diving bug but you lack the experience, start with this diving baptism activity on the coast of Alicante.
A CULTURAL TREASURE: THE ATLANTIC MUSEUM OF LANZAROTE
Diving in the bay of Las Coloradas, southern Lanzarote, one can find barracudas, octopus and sardines. And also couples taking selfies and businessmen on swings. Don't you believe it?
In this bay, being 12 meters deep, the British sculptor Jason deCaires Taylor installed the first submarine museum in Europe. More than 300 life-size sculptures follow each other through the sand, forming a large artificial reef that seeks to increase underwater life. Well, for this author, protecting the marine environment is one of the key aspects in his work.
If you want to visit it, it is necessary to book with one of the diving centers certified by the museum. In addition, it is mandatory to have an approved diploma to descend up to 16 meters deep.
You don't have it? Don't worry. Take a look at this Open Water Diving SSI diving course that credits you for going down to 18 meters deep and don't miss the chance to get to know this "sculptural" underwater treasure.
There are also companies that organize days where diving baptisms are performed in the morning; and, in the afternoon, the museum is visited at a time reserved for novices.
AN OENOLOGICAL TREASURE: THE WINES OF GIRONA
In the 1st century BC, an Iberian ship that sailed with 200 amphoras of wine on board shipwrecked off the coast of Port de la Selva, in Girona.
The Cap de Volt (that's the name of the wreck) has remained prostrate at the bottom of the sea since then. The investigations carried out discovered, among other things, that the cork that covered the amphoras had remained intact during all this time, keeping its properties unaltered.
Maybe this was the starting point for several Spanish wineries to start looking in the sea. In the same Girona, specifically in the small Cala Llevadó de Tossa de Mar, it is possible to visit one of them.
The experience allows you to dive in the company of an instructor to one of the chests that are kept 10 meters deep. In them, the wine matures, between 6 and 12 months, so that you take it home or even taste it right there, in a restaurant on the beach.
Let no one say that a diver can't be a gourmet too!
If Long John Silver traveled to Spain, he would be fascinated by the treasures hidden beneath its waters. Better not to tell him. This way we can continue to enjoy the sailors of glasses and fins, which we love to look at. Now it is clear that, as another film pirate said, not all the treasures are of gold and silver.