5 Vertiginous Ways to see Spain like a Swift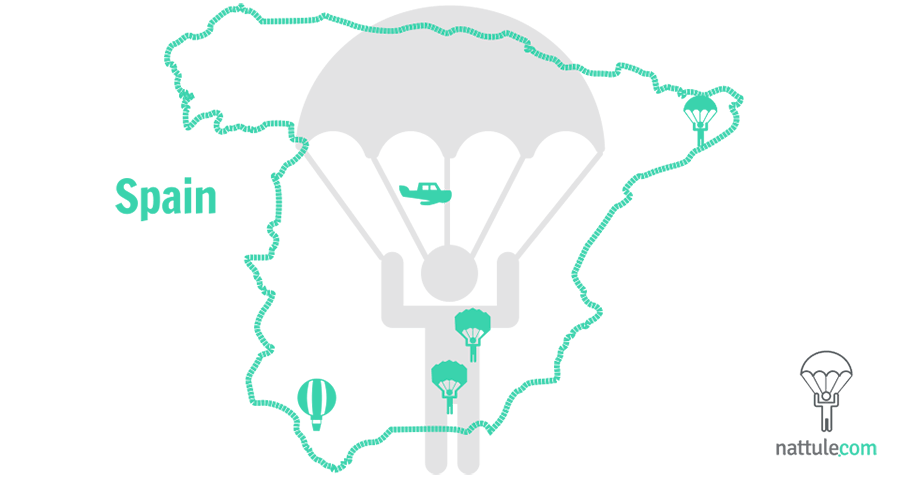 Leonardo Da Vinci stated that "Once you have tasted flight, you will forever walk the earth with your eyes turned skyward, for there you have been, and there you will always long to return". This is confirmed by the thousands of aero sports lovers, that follow the steps of Abbas Ibn Firnas, a 9th Century pioneer, the Renaissance genius, and also, Garnerin, who performed a parachute jump in Paris during the 18th Century.
The challenge of flying without checked baggage motivated numerous adventurers to establish  the foundation of this type of sport in the 50s. Half a century later, this has evolved at the same pace as technology. The only thing that remains the same is the courage of those looking for a unique sensation while flying.
If you are already one of them, or want to be one, I suggest you try these 5 unforgettable experiences in these unique areas of Spain, where this sport is well established.1. Two-seater Paraglider in Sierra de Segura (Jaen)
Among all air sports, paragliding is king, because of its easy accessibility and the wide range of emotions that you experience.
This sport originates from the 70's, when climbers looked for a faster way to go down from the peaks. Since then, this sport has become very popular, and many people today just do it just for fun.
The requirements are still the same: a good slope, the perfect thermal, and the will to fly. If you have the third requirement, we'll tell you where to find the first two.
Yelmo Mount at 1,809 masl. located in the heart of Sierra de Segura by the village of Cortijos Nuevos, is listed as one of the best spots to practice paragliding in Spain. Its easy access, along with the good weather conditions, allows you to practice this sport all year round, in addition to the beautiful surroundings all around.
Since 1999, the area of Yelmo has been chosen to host one of the biggests events devoted to this sport in Spain during the first weekend of June. Every year, the Festival Internacional del Aire, gathers thousands of enthusiastic free flight and powered flight fans.
If you have never tried this sport, this is a great opportunity to begin, since the program includes a flight initiation in a two-seater paraglider.
Go ahead and let an expert pilot control the technique that will allow you to enjoy the views of the mountains, Guadalquivir and Segura rivers, and the charming villages such as Hornos or Segura de la Sierra.
2. Paramotor flight over Sierra Nevada (Granada)
Known as the little brother of the paraglider, the tandem flight in a paramotor, in any of its types (standing or on wheels), has more and more fans everyday, since it offers more advantages and better possibilities than the free flight.
This sport began during the 80's in France, and emerged from the ability to take off from low levels, with unfavorable weather conditions, and being able to be performed by almost everybody. This here is what makes this sport so unique and different from the rest.
There are a growing number of parachute fans that have switched over to paramotors. In addition, the safety and autonomy are a plus in comparison to other flight types.
Without a doubt, one of the best locations in the whole Iberian Peninsula is the Sierra Nevada National Park. The village of Cenes de la Vega, west of Granada, is well known for the practice of motor paraglider flight.
There you can fly in tandem 1,500 meters above ground and enjoy the panoramic views of these mountains, look at the summits and escape.
3. Balloon Ride in Doñana (Sevilla)
If you are not convinced about being your own chassis while flying, there are less risky options to plow through the skies. Hot air balloon rides, although fast going up, they turn into a soft stroll among the clouds.
Once you're up there, silence goes into full effect because what matters are the views. Doñana is one of the best places to ride in an air balloon, where you can reconcile yourself with the landscape and restore lost feelings or ones you never found.
There is no better way to discover this National Park, which is famous for bird migrations, than to do it from a bird's-eye view.
Take off is near Gines, in Seville, where Jesús González Green, a ballooning pioneer from Spain was born. Once you're up there, you will enjoy these high altitude rides and others that almost touch the trees canopies.
For about an hour, you will go along the different ecosystems that are found in Doñana: marsh, forest, dunes and even the sea.
If the wind allows, the route to return will be over the Corredor Verde del Guadiamar, the first protected landscape of Andalusia, characterized by the presence of holm oaks, groves and pine forests.
4. Skydive in Costa Brava (Gerona)
Paragliding may seem bold, but there are some who look to set the bar pretty high in order to measure the intensity of their emotions: skydivers.
Few experiences will make you feel the extreme sensations that you feel like when you parachute jump. Imagine going down at 200 kilometers per hour from 4,000 meters up high.
If you really want to do it, try the tandem jump in Empuriabrava, located in the province of Gerona. This place in particular has one of the oldest parachute traditions in Spain. In addition to that, it's a world reference point for parachute jumping fans, and also a perfect place to begin even if you don't have any experience.
You will be taken here in a small plane from Empuriabrava airdrome, located in the Natural Park of Las Marismas del Ampurdan. When the required altitude is reached, the moment will come. A little push and leap, until the 1,500 meter point, when the monitor will open the parachute. After that, there's about 5 minutes of soft gliding to enjoy the panoramic  views of the Costa Brava,  along with Creus Cape and Roses Bay.
5. Gliding in Sierra de Guadarrama (Segovia)
"To invent an airplane is nothing. To build one is something, but to fly is… everything!" Otto Lilienthal.
It was not until the 20's, during the First World War, when the  gliders, which were designed by Lilienthal, first began to improve.
Actual gliders are completely different than those ones, because technology and new materials have revolutionized this sport. Also known as a sailplane, this flight type most resembles the ancient way of plowing through the skies.
Originally these gliders were propelled from the ground, but nowadays, they are towed by other airplanes that when reach the needed altitude, release the cable of the two-seater glide. For many this is the most clean and authentic air sport that exists. In addition, it's also possible to practice it, regardless of the orography and other conditions, almost everywhere.
Germany is the heart of this type of flying, but you can also enjoy this adventure in some areas of Spain as well. The best area is in Segovia. You'll have to take off from  the Fuentemilanos airdrome.
You will fly over the National Park of Guadarrama, the Regional Park of Cuenca Alta del Manzanares and the surrounding area of the city of Segovia.
If weather conditions allow for it, you will have some amazing views of the landscape. From this watchtower in motion, you'll fly free and in peace, with 2,000 years of history that await you, and the treasure of nature at your feet.
[hr type="line"]
Enjoying an orange juice on a domestic flight is okay, but it is nothing in comparison to the dry mouth feeling you get while flying free in the sky. Risk is fun. Life can be long decade of just sitting in the living room, but the most thrilling experience that you will tell your grandkid will be the day you experienced a power blackout.
[hr type="line"]